New York magazine talks to Keith Olbermann, who believes Elizabeth Edwards should be our next president.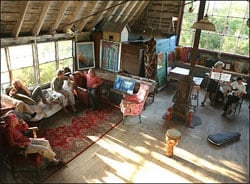 As the historic Hawthorne School of Art risks death by development, artists are fighting for their way of life in Provincetown: "Generations of artists flocked there each summer to study with Hawthorne and the artists who later taught in his hilltop barn, including the influential modernist painter Hans Hofmann. Illustrator Norman Rockwell and abstract expressionists Franz Kline and Lee Krasner were among those shaped by lessons in the blazing light of the dunes."

Condom Nations: Some interesting findings from a recent Durex Global Sex Survey.

Nicole Kidman reveals to Vanity Fair that she miscarried Tom Cruise's baby when she was 23: "From the minute Tom and I were married, I wanted to have babies. And we lost a baby early on, so that was really very traumatic. And that's when it came that we would adopt Bella. There's a complicated background to that, given that I never speak much about many things. One day maybe that story will be told. My mother has an adopted sister, so it's been part of our family, and I knew it would probably play out somewhere in mine. I didn't think it would happen so early, but it did."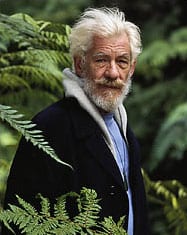 Ian McKellen brings his naked, buff King Lear to New York.

"Gay war" reportedly erupts in Pattaya, Thailand over sex trade: "Police arrested two young men after one bar was set ablaze and another was completely ransacked in the Thailand resort of Pattaya. Foreigners including British tourists fled the area, 100 miles east of Bangkok."

The oldest photograph ever taken of Tokyo, Japan.

Brokeback break-up: Heath Ledger and Michelle Williams find they can quit each other.

AmericaBlog's John Aravosis recently went visiting his family in Greece, and shot some fascinating footage of destruction from the recent fires that burned for miles and miles, threatening ancient ruins and creating smoke plumes that coule be seen from space.

Karl Rove advised Bush against picking Cheney as VP, new book reports: "The Washington Post reported Monday that in the book — 'Dead Certain: The Presidency of George Bush' — journalist Robert Draper reveals that Bush was intent on picking Cheney as his running mate, despite his warnings against it. 'Selecting Daddy's top foreign-policy guru ran counter to message. It was worse than a safe pick — it was needy,' Draper quotes Rove as saying. Once he took office, the president 'saw no harm in giving his VP unprecedented run of the place,' Draper wrote."

22-year-old Indian man confesses to murder of gay partner and partner's grandmother: "Arun Prasad Dora, a resident of Dhenkal town and a Master's student at an institute in the city, told the police he killed his friend Debabrata Pani, 22, for forcing him into a homosexual relationship for the past one year. On Monday night Debabrata, who lived in the staff quarters of Orissa University Of Agriculture Technology (OUAT), tried to force Arun to sleep with him when Debabrata's parents were away. 'The youth protested and in a sudden rage stabbed Debabrata to death,' Inspector-in-charge of Khandagiri police station, S.P. Satpathy told IANS. Arun also killed Debabrata's grandmother, Suna Pani, 78, as she witnessed Debabrata's murder, Satpathy said."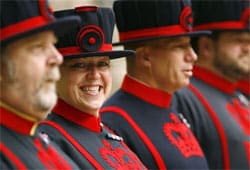 First female Beefeater takes her spot at the Tower of London.

50 marchers wrap up Atlanta Black Gay Pride weekend with march from the King Center to the state Capitol: "People are here, and they are proud of who they are. It gives us a chance to show people what's happening with us."

Jodie Foster declines to respond to OUT magazine treatment on closeted celebrities to Entertainment Weekly: "Over the next two hours, there's only one subject that she firmly swats away. A recent Out magazine cover featured two models holding up pictures of her and Anderson Cooper's faces in front of their own, under the headline 'The Glass Closet: Why the Stars Won't Come Out and Play.' When asked if she has any response, Foster says, 'Was that the one with the Popsicle sticks?' Her thin lips tighten into a calm half smile of reproach: 'No, I have no response.'"