"Pro-family" groups in Oregon met a September 26 deadline to turn in 55,179 signatures in a petition that would effectively halt the state's recently passed gay rights laws from going into effect on January 1st.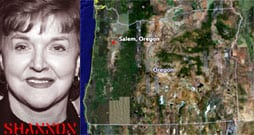 Last April, the Oregon legislature passed not only a sweeping domestic partners bill that would give same-sex couples in the state all the rights enjoyed by heterosexual couples (aside from the "marriage" name), but it also passed an important employment, housing, and public accomodations non-discrimination bill.
A group called Defense of Family and Marriage Again, spearheaded by former senator Marilyn Shannon, immediately began the signature drive that would eventually force the measures before voters on the November 2008 ballot.
According to the AP, "Conservative activists submitted what they said were about 63,000 signatures for each of the two referrals — which after invalid signatures or flawed petition sheets are weeded out might still leave them with the needed 55,179 valid signatures."
Said Shannon: "I can't predict the future; my money is on us making it."
State officials said it would be several weeks before they could confirm the number of valid signatures.