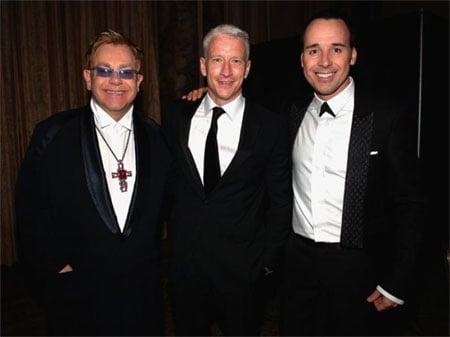 New York magazine grabbed a moment with Anderson Cooper at the Elton John AIDS Foundation's Enduring Vision benefit Tuesday night, drawn in by what appeared to be some newly bulging biceps.
Anderson explains: "I've just been … working with a trainer and uh, I don't know, lifting a little weight, and running a little. I don't know….Uh, you know, I just turned 40, so yes, I'm trying to be a little bit healthier now and trying to eat a little bit more sensibly. And also, with traveling so much, you know, it's tough when you're in Iraq to do anything, so I try to work out when I'm here….This is really … I sound ridiculous. Wow, well, I didn't know that New York Magazine would notice my biceps. My trainer will be thrilled. I'm going to pass this along to him. His name is TJ. He'll be very excited."
Judging from the photo above, it looks as though a couple of other folks were interested in getting a bit closer to those biceps as well.
Iraq Trips Hamper Anderson Cooper's Gym Schedule [new york magazine]
(image source)