The New Jersey Civil Union Commission held the first of three public hearings last night at the New Jersey Law Center designed to assess the effectiveness of the state's civil union laws. It was attended by approximately 120 people, the Asbury Park Press reports: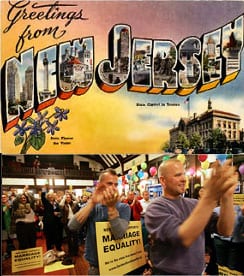 "David Smith, Garden State Equality's deputy director, said the organization has received 304 complaints about unequal treatment under the state's civil union laws — he called that 'an astonishing rate of failure'…'Employers don't respect civil unions like they respect marriage in the real world,' Smith told the review commission."
The couples present mostly reiterated Smith's perspective.
"Craig Ross, of Somerset, said his employer refused to give health coverage to his partner, Richard Cash, after the two formed a civil union in April. They were one of several couples who described how business have cited federal laws that refer to 'marriage' or 'spouses' in order to deny health coverage to gay and lesbian employees who have tried to obtain benefits for their partners under New Jersey's civil union law. 'They're looking at it as a ceremony, not even a relationship or a legal status,' Ross said. 'It's just words.'"
Otheres cited linguistic issues: "Tom Walton, of East Brunswick, said the difference in name — civil unions versus marriage — sends a message that gay couples are inferior. 'Having to explain it automatically devalues it,' Walton said. 'Even if it gives us the same rights marriage, it doesn't give us the respect.' Walton works at UPS, which sparked one of the first disputes over civil unions when it denied same sex couples health benefits, citing federal rules. The company relented after Corzine wrote to intervene."
Gay marriage foe Len Deo, president of the New Jersey Family Policy Council, claims that the commission was created "to turn civil unions to full-fledged marriage."
Or at least to make it plainly obvious why they should be.
Gay, lesbian couples say civil union law doesn't go far enough [asbury park press]
Recently
Poll: New Jersey May Be Ready for Gay Marriage Upgrade [tr]