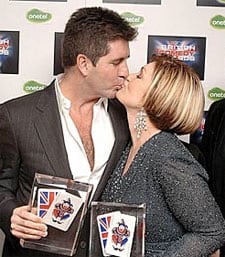 If reports out of Britain are to be believed, Simon Cowell fired Sharon Osbourne after the first season of the UK show The X Factor because Cowell was tired of Osbourne making claims about his sexuality:
"She tells everyone he's gay. She claims he's in the closet and doesn't know yet he's homosexual, which is ridiculous. And even though Simon has a beautiful girlfriend (model/TV presenter Terri Seymour), Sharon would openly harangue and taunt him about it. Sharon told me that at the end of series one Simon actually got her fired for her jibes and nastiness to him and the contestants. The producers persuaded Simon to give her a second chance as they loved the chemistry between the judges."
Although stateside, Cowell seems perfectly willing to dish out the same kind of innuendo.
You may have missed…
Simon Cowell Urges Ryan Seacrest: Come Out of the Closet [tr]