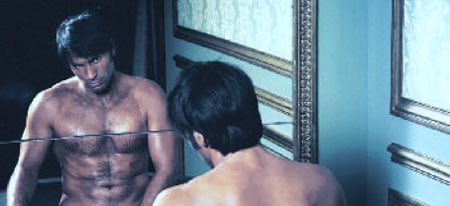 As France gears up to host the 2007 Rugby World Cup, gay clubs around the country are hoping to put a focus on combating homophobia in the sport:
Said Christophe Solignac, who trains the "Melee Alpine" (Alpine Scrum) team in Grenoble: "It always surprises people when at the beginning of a match we introduce ourselves as a gay team, but once on the pitch, we earn the other side's respect. Ultimately, we share the same passion regardless of our sexuality. Straight rugby men who play against against us know it's a very tough sport, and our sexuality doesn't stop us training in the snow in winter, when the temperature falls below freezing! And the old fantasy about gay rugby men mucking around in the showers or the locker rooms really is a load of rubbish."
Although ironically, the "old fantasy" continues to be perpetuated by the straight French national rugby team with their series of Dieux du Stade rugby calendars, books, and videos, the latest of which has just begin to hit the media.
Check out the French Rugby Team fan site for a few exclusive photos from the new calendar, shot by Steven Klein. (NSFW)
In related news, Argentina is hosting the inaugural gay football world championship later this month.
Here you go.