Deaths: Legendary mime Marcel Marceau dies at 84. Stage actress and Bewitched star Alice Ghostley dies at 81.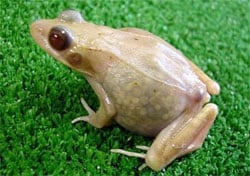 Scientists develop see-through frog.

Fort Lauderdale debate over gay rights and Mayor Jim Naugle dividing South Florida's black community: "Despite the support that many black ministers showed for Naugle, the local NAACP took a public stand against the mayor, calling his crusade a 'hate campaign.'…'I'm not here to condone or condemn gay sex,' Marsha Ellison, head of the Broward NAACP, told The Miami Herald. 'This is a hate campaign against gays launched by the mayor.' She said the branch's position — adopted after a unanimous vote of its 22-member executive committee as well as branch members — echoes the national NAACP's position. 'Anytime any group is discriminated against it becomes a civil rights issue,' she said."

First conclusive evidence presented that velociraptors had feathers: "It's sort of as if you scaled up a chicken and then gave it really nasty teeth and big claws on its feet."

Your chance to have dinner and drinks with Michael Biserta, the New York firefighter renowned for his big hose.

Suburban Chicago teenage girl sentenced to one year of probation and ordered to write letters of apology for distributing anti-gay fliers with a friend outside Crystal Lake South High School: "Police arrested the two girls May 11 after they had distributed about 40 fliers in a student parking lot at the high school, 1200 S. McHenry Ave. The fliers had a photograph of two male students kissing and included inflammatory words."

Todd Oldham named creative director at Old Navy.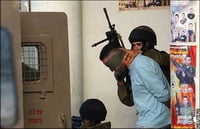 Israeli man detained in Lebanon on suspicions of murder and espionage tells authorities he is gay: "The events leading to Sharon's arrest last Thursday began when authorities in Beirut questioned a Lebanese security agent in connection with the shooting death of the man's roommate, according to a report in the Lebanese daily Al-Akhbar. The agent claimed to have been with a German friend at a Beirut hotel at the time of the killing. When authorities questioned the German friend, they discovered he was an Israeli who spoke Arabic and who had repeatedly visited Lebanon, the report said. Sharon denied allegations he was spying for Israel, the reports said. He told police he visited Lebanon for tourism and that he was a homosexual who had relationships with Lebanese men, according to the reports."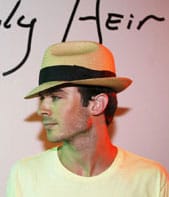 Former model Ian Somerhalder returns to the runway.

PlanetOut seeks entries for short film awards: "Winners will be announced in January 2008 at PlanetOut's annual event during the Sundance Film Festival, and the Grand Prize Winner and four runners-up will be screened at a special ceremony and program in Miami as part of the Miami Gay & Lesbian Film Festival on Sunday, April 27, 2008. The Grand Prize winner will receive a $10,000 cash prize and will be exhibited on PlanetOut.com and Gay.com, along with the runners up, who will each receive cash prizes ranging from $1,500 to $500…Judges will consist of film and TV executives from companies such as Bravo, Logo, and Sony Pictures Classics, and representatives from PlanetOut Inc. and MGLFF."

Rufus Wainwright wraps up his Judy tour with performance at the Hollywood Bowl: "The most striking costume change of all came during the encore's first song, 'Get Happy,' when Rufus pranced out in full Judy drag: fedora, diamond earrings, red lipstick, double-breasted tuxedo jacket, seamed black stockings, and high heels. The audience subsequently went crazy."