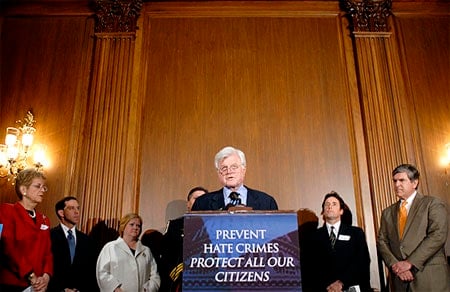 Success has been achieved in a cloture vote on the Matthew Shepard Hate Crimes. The Senate passed it by a vote of 60-39. The Senate then added the Kennedy-Smith hate crimes amendment to the Department of Defense authorization bill by voice vote.
The AP notes: "Attaching hard-to-pass legislation to must-pass bills is a strategy for both parties. Success means forcing squeamish lawmakers to technically vote for controversial policies embedded in massive spending bills."
Bush has threatened to veto the hate crimes bill, but now that it is attached to a bill funding the Defense Department and his Iraq war, will he still veto it?
The AP reports: "The hate crimes amendment, which passed as a stand-alone bill in the House this year, is especially tempting for majority Democrats because of Bush's weakened, lame-duck status and some support for the measure among Republicans. The underlying bill would authorize military spending priorities for fiscal 2008. That discussion began on the Senate floor even before it was brought up underscored the sensitivity for the White House. GOP leaders were careful not to attack the legislation itself, focusing instead on what they said was the 'non-germane' nature of the amendment to the overall spending bill. 'There may be a time and place for a hate crimes discussion, but it is certainly not now when national security legislation is being held up,' said Senate Republican Conference Chairman Jon Kyl of Arizona. 'Forcing a vote on the so-called hate crimes amendment shows an utter lack of seriousness about our national defense.' Retorted Sen. Bob Menendez, D-N.J.: 'For some, it never seems to be the right time or the right place.'"
Judy and Dennis Shepard have released a statement.
You may have missed…
Hate Crimes Bill Introduced, Named for Matthew Shepard [tr]