Two gay men were attacked at Vanderbilt University in Nashville, Tennessee on September 9th by an undergraduate and a non-student guest. While at a Quiznos restaurant on campus, their outward displays of affection drew verbal harassment followed by a physical assault, InsideVandy reports: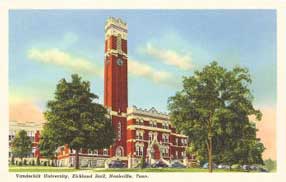 "When the couple left Towers West they were accosted by the two suspects in what 'appeared to be a premeditated, unprovoked attack,' said Dean of Students Mark Bandas. The police report narrative does not mention the anti-gay language used in Quiznos, but it does indicate suspicion of a hate crime. Surveillance images, which will not be released by the university in order to protect the victims, captured the entire attack and led to the identification of the undergraduate suspect. According to the VUPD report, 'The suspects began to strike (the graduate) in the head with their fists. The suspects struck (him) four or five times.' The victim suffered minor swelling to the left cheek and lip, according to the report. The attack, an 'isolated and anomalous incident,' was 'beyond disappointing,' Bandas said. 'Vanderbilt has no tolerance for intolerance,' he said. 'An assault like this one is an attack on the fundamental norms and values that constitute our community.'"
Vanderbilt Student Government President Cara Bilotta made note of the attack as University officials expressed dismay over the lack of GLBT visibility on campus: "GLBT issues have been 'hush-hush,' but they need to be out in the open if we are going to increase acceptance and increase tolerance. I had hoped our collaboration would be more proactive, but because of this incident, we have been forced to be reactionary."
According to InsideVandy, the victim of the assault has pressed charges and the student attacker will face university disciplinary charges that will not be made public. The non-student attacker may have fled the state.
Students attacked in alleged anti-gay hate crime [inside vandy]
University responds to alleged hate crime [inside vandy]