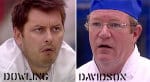 Jim Davidson, a comedian and contestant on the UK version of the reality show Hell's Kitchen has been asked to leave the show by producers after using a homophobic slur towards openly gay TV presenter and 2001 Big Brother winner Brian Dowling:
"Trouble stirred on Sunday when Jim told Brian and singer Paul Young about a look he believed he got from a table of diners. He said: 'Why do shirtlifters pull that same face?' Brian said: 'Please don't say shirtlifters, it's really rude.' Jim said: 'I don't care. Gay men have the same look — some gay men have the same look.' Brian asked: 'What look? Do I do have that look?' Jim replied: 'No, only when you put it on — it's a sort of preen.' Later Brian, 29, claimed Jim had called him a shirtlifter. Jim replied: 'I didn't call you a shirtlifter, I said why do shirtlifters have that certain look. You said I don't like that word so I said 'I beg your pardon'.' Brian said: 'No you didn't. You said, 'I'll say what I want'.' Jim replied: 'Fair enough. You play the homophobic card you are a f****** disgrace.' Sobbing Brian said: 'I find you the most offensive person I have ever met in my whole entire life. I find you so upsetting. I don't play the homophobic card.'"
ITV, the network that airs Hell's Kitchen issued this statement with regard to Davidson's removal: "ITV does not condone comments which could cause offence."
Below, a couple recent clips from the show that reveal the issue of homophobia has been simmering for some time.
Jim Davidson leaves TV show over gay slur [reuters]
Jim Davidson axed from Hell's Kitchen after calling gay Brian a 'shirt-lifter' [daily mail]