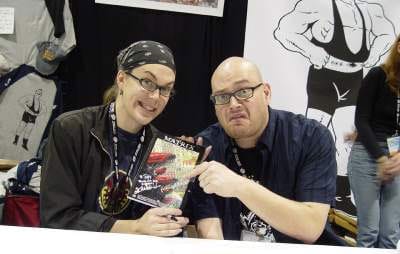 Via Cinematical comes news that one half of the filmmaking family team the Wachowski Brothers (V for Vendetta, The Matrix, Bound, the forthcoming Speed Racer), Larry Wachowski, has completed a transition and is now Lana Wachowski:
"Interestingly enough, Lana will speak to the press about this — which is rare for the Wachowskis since they're not ones to speak to the press about anything, let alone something this personal in nature. However, rumor has it that she will not openly speak about the sex change until after Speed Racer hits theaters on May 9. On top of that, sources say that Andy Wachowski will do all the press for the film as well for fear that the whole sex change thing could potentially harm the family-friendly film."
Above is a newly released photo of the team, and Dateline NBC will reportedly be doing Lana's first interview.