Last week I reported that D. James Kennedy, who headed the south Florida megachurch Coral Ridge Ministries, went into retirement. The pastor died today.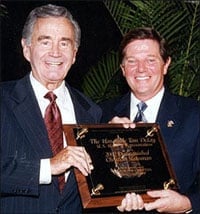 The AP reports: "Kennedy's voice and face were known to millions through radio and television broadcasts, urging Christians to evangelize in their daily lives, while condemning homosexuality and abortion as assaults on the traditional family. His also preached on the major policy issues of the day, rejecting evolution and global warming."
Coral Ridge Presbyterian Church hosted last year's Love Won Out "ex-gay" conference. It was also at the Center for Reclaiming America in Fort Lauderdale, which is tied to Kennedy's Coral Ridge church, where Ann Coulter reiterated her "faggot" remarks.
Kennedy is now learning the consequences of his hateful ministry.