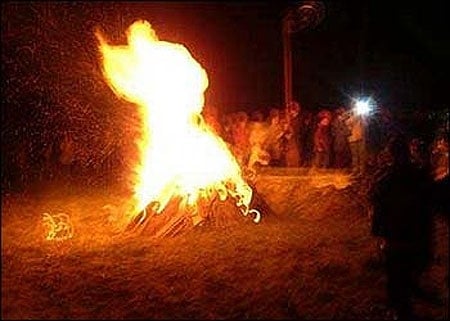 An image captured in a bonfire in Poland has the Catholic world transfixed. Many believe it's Pope John Paul II offering a blessing from beyond the grave.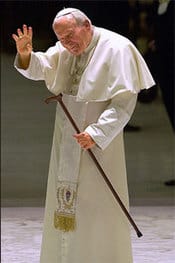 The Telegraph reports: "Dressed in robes, slightly hunched and his right hand raised in blessing, the image appeared during a ceremony to mark the second anniversary of the pontiff's death. The photograph has since been shown repeatedly on Italian television, and a religious website displaying the image crashed as thousands logged on to see it for themselves. The bonfire was lit during a service on April 2, at Beskid Zywiecki – near the Holy Father's birthplace in Wadowice, southern Poland."
Said the photographer: "It was only afterwards when I got home and looked at the pictures that I realised I had something. I showed them to my brother and sister and they, like me, were convinced the flames had formed the image of Pope John Paul II. There is a tongue of flame to one side which resembles his right arm raised as if giving a blessing. I was so happy with the picture that I showed it to our local bishop who said that Pope John Paul had made many pilgrimages during his life and he was still making them in death."
Of course, (and I'm sure I'll be flamed for this, so to speak) what nobody's really discussing is why the Pope chose the hellfires of Satan as his medium.
You may have missed…
High-Ranking Vatican Cleric Suspended in Gay Sex Scandal [tr]
Bush, Pope, Ahmadinejad in Human Rights 'Hall of Shame' [tr]
Gays in Brazil Protest Pope's Arrival [tr]
Vatican Official Brands Gay Marriage "Evil" [tr]