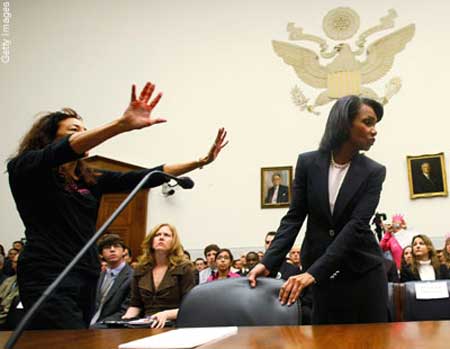 Anti-war protestor Desiree Anita Ali-Fairooz of the Code Pink organization was detained on Wednesday after confronting Secretary of State Condoleezza Rice at a congressional hearing.
As Rice approached the podium, Farooz placed blood-colored hands in her face and shouted "war criminal" before being escorted form the chamber along with several other activists.
Reuters reports: "Capitol Police said later five people were arrested, including Ali-Fairooz, who was charged with disorderly conduct and assault on a police officer. She was also charged with defacing government property for smearing the red paint from her hands on the hallway wall outside the hearing room. The other four protesters faced disorderly conduct charges."
Halloween, of course, is next week, but in the Bush administration it's scary all year.