Crimes: The cost of being LGBT in today's world.

REPORT: Ellen DeGeneres and Portia de Rossi ready to split.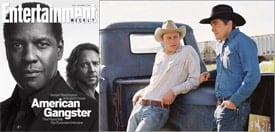 Entertainment Weekly: Why didn't Brokeback Mountain change anything? "According to almost every person interviewed for this story, there just aren't any high-quality gay scripts in circulation. 'I swear to you, if there were projects that were visible and good, people would make them,' says Hairspray producer Craig Zadan, who, with Neil Meron, makes up one of the most successful gay producing teams in town. 'No one's brought them to us.' It doesn't help that the scripts that are out there can't seem to get off the ground. The Front Runner, about a cross-country coach who falls in love with one of his runners, and The Dreyfus Affair, about a romance between two major-league ballplayers, have been in development hell for years. And Zadan and Meron themselves have spent 16 years trying to get The Mayor of Castro Street, about slain gay civil rights icon Harvey Milk, on the screen. So gay film is caught in a bitter catch-22. Because studios don't greenlight gay movies, great writers don't bother crafting them — so there's nothing for the studios to produce."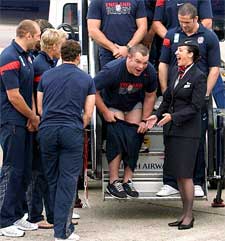 British rugby player de-planed and de-pantsed.

Following hate crime, Georgetown University finally makes commitment to LGBT community: "At an open forum last night, President John DeGioia commendably announced that Georgetown will have a fully-staffed, fully-funded LGBTQ resource center by next fall. Three working groups will be created to address the creation of the resource center, the development of a better bias-reporting system and plans for LGBTQ diversity training during New Student Orientation."

What happens if you stay awake for eleven days straight?

Singapore's gay rights debate got ugly: "There were threatening, expletive-laced emails. One parliamentarian had his sexuality questioned. Another academic was flamed in blogs and had her phone number circulated. And the employer of one gay professional was questioned about their hiring him. The ugly turn of events, some may say, is only to be expected given the emotional nature of the subject matter — one that Prime Minister Lee Hsien Loong had warned on Tuesday could polarise society."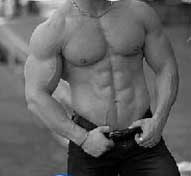 Heidi Fleiss seeking studs for stud farm.

50 Cent and Lance Bass do book battle.

While Morrissey does NYC, Reichen Lehmkuhl does drag.

New study on the effects of chewing gum on weight loss: "A research study presented at the 2007 Annual Scientific Meeting of The Obesity Society, found that chewing gum before an afternoon snack helped reduce hunger, diminish cravings and promote fullness among individuals who limit their overall calorie intake. Calorie intake from snacks was significantly reduced by 25 calories. Overall, this study demonstrates the benefits of chewing gum and highlights the potential role of chewing gum in appetite control and weight management. Nutritionists say that even small changes in calories can have an impact in the long term."

Desperate Housewives to get gayer as Estimates eclipsed at Banksy auction. Bonham's specialist: "Today's results demonstrate that prices for Banksy's work continue to go from strength to strength. Perhaps the most incredible aspect of the Banksy phenomenon …(is) that as a self-confessed guerilla artist, he has been so wholeheartedly embraced by the very establishment he satirizes. We are sure that this irony is not lost on today's buyers."

San Francisco Episcopal diocese okays blessings for same-sex couples.

David Beckham voted "manliest" in poll.