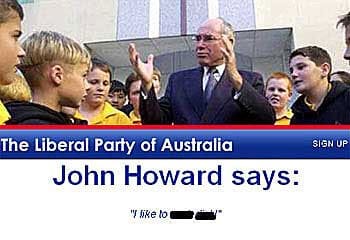 Australia's Liberal Party is denying claims that their website was hacked after an email with a purported screencap was sent to members of the media. The screen capture featured a photo of John Howard with the caption "John Howard says: 'I like to suck dick'".
Said Howard in response to the reports: "I can assure anybody that's seen it, it's not me."
Liberal Party Federal Director Brian Loughnane denied their site had been compromised: "It has been drawn to my attention that an internet link has been circulated which creates the impression that an unauthorised text has been inserted into the Liberal Party website. This link did not in fact alter the Liberal Party website in any way. The party has taken action to disable the link."
If the "hackers" who sent the email were trying to get their message out, however, the stunt worked, as newspaper sites across Australia went ahead and published the screengrab in question.