Canadian soldiers sentenced to jail for anti-gay attack in Amsterdam: "Eric Wright was sentenced to five months in jail and ordered to pay 6,000 euros (8,300 Canadian dollars/8,500 US dollars) in damages and Ryan Dowie was given 45 days in jail, a court spokesman told AFP."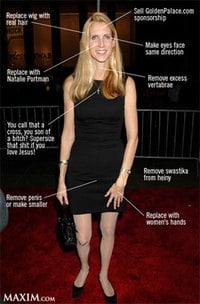 Since she'd like to perfect the Jews, Maxim's editors went ahead and tried to figure out how they would perfect Mann Coulter.

DNA: Genetic study of gay brothers gains steam…

Gay activist group to go door-to-door in South Carolina.

The Guardian reports on the sex exhibit that recently opened in Britain: "…we live in a world that fears erotically charged images. Pornography is loathed even as it is consumed. In Britain, there has been a recent moral panic about one of the artists in this show, Nan Goldin, whose photograph of a naked young girl was removed from an exhibition at Gateshead's Baltic Centre. That is the modern version of anxieties that for centuries drove artists to veil passion in fine ideas. This show includes a copy of Michelangelo's drawing of The Rape of Ganymede, which he gave as a present to a young nobleman he adored, and which portrays Jupiter taking the form of an eagle to carry away a boy he lusted after."

REPORT: Air America talk show host Randi Rhodes assaulted in NYC.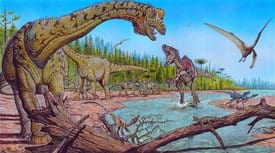 Massive new dinosaur unearthed in Patagonia.

Bahamas Ministry of Tourism and Aviation apologizes to gay group after party raid: "The written communication came after Ebony Pyramid Entertainment demanded a public, published apology from the Royal Bahamas Police Force and assurances from the Ministry of Tourism that their annual event will not be targeted again to 'intimidate' homosexuals. The group received one of their two demands. The Executive Director said he is still awaiting an apology from the RBPF. The police 'raid' on their October 6 party which was attended by over 200 lesbians, gays, bisexuals and transgender (LGBT) tourists was nothing more than a poorly disguised attempt to harass, intimidate, and frighten the homosexual community, Xavier said in a release addressed to the MOT."

UC Berkeley student asks, why not marriage for all?

Is Britney Spears dreaming of escape with her new reading material? Or has she just completely wigged out?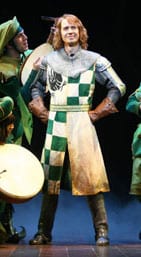 Clay Aiken to join Broadway production of Spamalot as Sir Robin. Role was originated by David Hyde Pierce.

Skeptical global warming meteorologist hailed by traditional media once compared Gore to Hitler: "MSNBC called Gray a 'top meteorologist.' McClatchy referred to him as a 'pioneer in the science of seasonal hurricane forecasts.' The Washington Times coined him one of the 'world's foremost meteorologists.' But all failed to note that Gray has a long history of climate skepticism and attacks on Gore. In May 2006, a Washington Post magazine article quoted Gray directly comparing Gore to Hitler: 'Gore believed in global warming almost as much as Hitler believed there was something wrong with the Jews.'"

Muslim leader in Uganda wants gays sent to an island until they die.

93-year-old pens gay romance novel: " Mr Soper only decided to write the novel after 'coming out' at the age of 91 – and only told his fellow residents at the The Old Vicarage nursing home, in Moulsford, where he lives, after they asked to read his novel. He said: 'When all the old ladies heard about the book, they asked if they could read it. So I had to tell them I was gay and that it was a gay-themed novel.' Mr Soper, a former academic at Christ Church, Oxford, until 1981, said it had been nice to be honest about his sexuality after so many years."