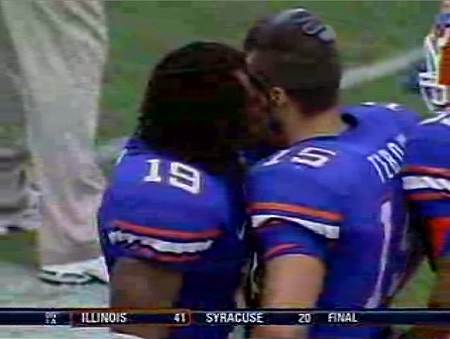 Here's a recent study by openly gay sociologist Eric Anderson which is titillating if not a bit misleading. The headline claims "Over One-third Of Former American Football Players Had Sexual Relations With Men". In fact, Anderson's study was pooled from "American Football players who previously played at the high school (secondary school) level but had failed to be picked for their university's team and were now cheerleaders instead." Hmm.
Anyway, Anderson hopes to show that homophobia is decreasing on the football field based on more positive portrayal of gays in media. Says Anderson: "Men have traditionally been reluctant to do anything associated with homosexuality because they feared being perceived gay. There has been pressure on them to conform to the notion that being male is about having traditionally masculine traits, in terms of dress, behaviours and sexual activities. But as more men are open about their varieties of sexuality, it becomes less stigmatized to be gay or to have sex with men. It is increasingly not a problem to act in otherwise non-traditional ways."
Well, I can't say Anderson convinces me, but I appreciate his optimism.
On another note, here are two amazing football videos which have cropped up in the past couple days. The first is from a game over the weekend in which Trinity (TX) beat Millsaps (MS) in the Southern Collegiate Athletic Conference in the final, incredible play.
In the second, a cheerleader gets mauled in a mishap at Auburn. She was a homecoming princess, and she survived. Maybe she's related to Hayden Panettiere!
Over One-third Of Former American Football Players Had Sexual Relations With Men, Study Claims [science daily]
Recently
Tony Joiner's Touchdown Kiss for Tim Tebow Causes Stir [tr]
Steelers Quarterback Ben Roethlisberger is Delicious [tr]
Sportrait: David Kopay [tr]
Redskins Wide Receiver Resurrects Troy Aikman Gay Rumors [tr]
Tom Brady for Stetson [tr]