Amnesty: Death penalty imminent for gay youth in Iran. "Child offender Makwan Moloudzadeh, an Iranian Kurd, is believed to be at risk of imminent execution. He has reportedly been convicted of lavat-e iqabi (anal sex) for the alleged rape of a 13-year-old boy. Makwan Moloudzadeh was aged 13 at the time of the alleged offence. His death sentence has been passed to the Office for the Implementation of Sentences and he is due to be executed in public, near his home."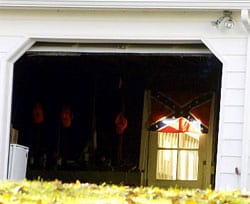 Confederate flag that hangs at site of Cheney's weekend hunting trip stirs up anger from Al Sharpton: "It's appalling for the VP to be at a private club displaying the flag of lynching, hate and murder. It's the epitome of an insult." The good news is, nobody got shot in the face.

Rosie O'Donnell ambushed at book signing by Bill O'Reilly team. (Rosie's Video, O'Reilly's Video)

NYT: Cancellation of Halloween fest in San Francisco a sign that gay ghettos risk becoming passé. "For many in the Castro District, the cancellation is a blow that strikes at the heart of neighborhood identity, and it has brought soul-searching that goes beyond concerns about crime. These are wrenching times for San Francisco's historic gay village, with population shifts, booming development, and a waning sense of belonging that is also being felt in gay enclaves across the nation, from Key West, Fla., to West Hollywood, as they struggle to maintain cultural relevance in the face of gentrification."

Did Avril Lavigne dress as Chris Crocker for Halloween?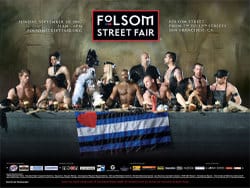 Miller Brewing apologizes for allowing its brand logo to appear on posters for San Francisco's Folsom Street Fair that parodied The Last Supper.

Opposing accounts offered at trial of Navy doctor accused of secretly taping midshipmen having sex: "A Navy doctor who served as a sponsor for U.S. Naval Academy midshipmen 'violated the trust' of the students by using surveillance equipment installed in an air purifier at his Annapolis home to make 'secret sex tapes' of them, a Navy prosecutor said yesterday at the start of the doctor's court-martial. But Cmdr. Kevin Ronan's attorney, William T. Ferris, said the tapes were made by a former midshipman who used them in an attempt to extort money from his client. Ferris said the tapes became public after his client refused to give money to the former midshipman, who had been dismissed from the Naval Academy for academic reasons and needed money for expenses. 'This was a plan to extort money from Commander Ronan that went awry,' Ferris said during his opening statement at the Washington Navy Yard."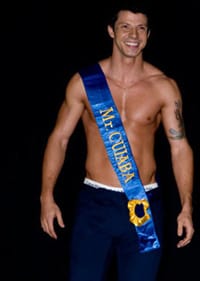 Meet the first Mr. Gay Brazil, Luciano Lupo.

Frank DeCaro looks at Paul Lynde's Halloween Special from 1976, along with a clip of Margaret Hamilton dressed as the wicked witch introducing Paul to members of KISS.

Queer community at NYU holds drag ball.

Croatian man charged with hate crime in Zagreb for attack on gay parade: "The man, identified only as Josip S., is charged with endangering lives and property by an act of hatred toward the participants of the Gay Pride parade in July, the Zagreb district prosecutors' office said. The man is the first person in Croatia to face hate crime charges since it was introduced into the Penal Code last year. If convicted, he faces up to eight years in prison. No date for a trial was immediately set. Police spotted the man as he prepared to throw homemade Molotov cocktails — bottles containing gasoline — at the parade participants gathering at Zagreb's main square. He fled the scene, but was tracked down later at his home."

Best Week Ever's Top 10 most humiliating pet costumes, judged by the expression on the pets' faces.

Leak reveals Cheney's plan for Iran attack? "In the scenario concocted by Cheney's strategists, Washington's first step would be to convince Israel to fire missiles at Iran's uranium enrichment plant in Natanz. Tehran would retaliate with its own strike, providing the US with an excuse to attack military targets and nuclear facilities in Iran."

1884: The oldest known photograph of a tornado.