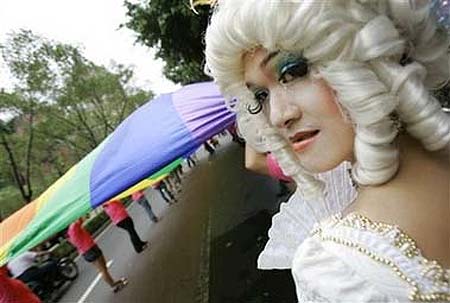 The fifth annual gay parade took place in Taipei, Taiwan over the weekend and organizers reported that ">the number of people participating jumped to 7,000 from last year's 2,000.
The AFP reports: "The parade reached its climax with a rally outside Taipei City Hall, where Taiwanese pop diva A-Mei was recognised as a goodwill ambassador by organisers for her support of the gay community. The singer, who performed some of her hit songs to the cheering crowd, endeared herself to the gay audience when she released a music video depicting a gay wedding scene several years ago. Despite the festive atmosphere, organisers hoped to get some serious messages across to the public."
Taiwan's parliament has been sitting on bills since 2003, one which would forbid discimination based on sexual orientation and another which would allow same-sex marriage and adoption, but little action has been taken. Organizers said they hoped the parade and rally would encourage lawmakers to move on the bills.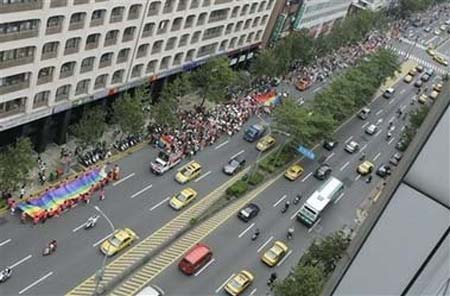 Gay rights supporters march in Taipei to demand respect [iht]
Thousands march in Taipei for gay rights [afp]