Former MSNBC host and author Rita Cosby was hit with a $60 million libel lawsuit by attorney Howard K. Stern yesterday over allegations made in her recently-published book Blonde Ambition: The Untold Story Behind Anna Nicole Smith's Death.
Cosby claims in the book that Stern and Larry Birkhead were sexually involved and conspired to share Anna Nicole Smith's estate.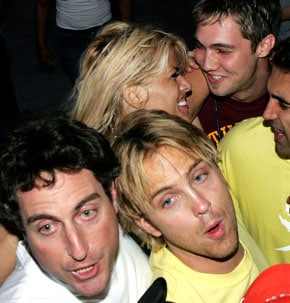 According to the AP, "Stern's lawsuit says that the book falsely accuses Stern of, among other things, criminal lewd acts, homosexual acts, illegal possession and use of cocaine, conspiring to commit murder and kidnapping for ransom. 'Defendants have exploited Ms. Smith's life and death by publishing false and defamatory factual accusations against' Stern, according to the 65-page lawsuit filed by Atlanta lawyer Lin Wood."
Stern told Entertainment Tonight in September: "Most of these witnesses, or, you can't even call them witnesses, but sources to Rita Cosby's book, they were doing media after media interview after Anna passed away and they took every shot at me that their imaginations could possibly dream up. And all of a sudden, the same people are coming back and they're saying, 'oh by the way, I forgot… Howard and Larry are gay and there's a video of them together.' It's ridiculous. I mean it's absolutely absurd. That woman Rita Cosby is either the dumbest person on earth or she knows that she's printing false information. And I don't think she's the dumbest person on earth. Dannielynn is gonna read this garbage and it's almost like she's going have to get counselling from the age of three."
Stern is seeking $10 million in compensatory and $50 million in punitive damages.
Howard K. Stern Breaks Silence on Gay Rumors [tr]
Larry Birkhead Explains Why He and Stern Hit Up Gay Pride [tr]
Larry Birkhead Responds to Gay Allegations on Larry King Live [tr]
Threats Fly Over Birkhead-Stern Gay Sex Claims in New Book [tr]