Mystery surrounds the shooting death of Ciara Durkin, a lesbian serving in Afghanistan with troops from the Massachusetts National Guard.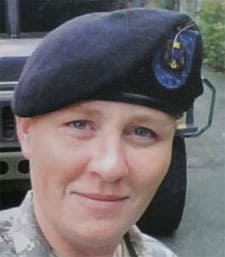 The Boston Globe reports: "The Defense Department says it is investigating Durkin's death, which it described as a 'non-combat-related incident.' Durkin's family says Army officials have told them she was found with a single bullet in her head, lying near the church where she worshipped on the secure Bagram Airfield. The Army has not publicly disclosed whether a weapon was found near her body. The Massachusetts National Guard initially reported that Durkin was killed in action, though a Guard spokesman later said the term meant only that Durkin was serving in Afghanistan at the time."
US Senators John F. Kerry and Edward M. Kennedy and US Representative William D. Delahunt have made special requests to the Defense Department for answers about Durkin, a resident of Quincy, Massachusetts.
Durkin's sister, Fiona Canavan, one of nine siblings in the family, has concerns that the shooting could have been related to Durkin's sexuality: "Ciara was a lesbian, and that's bound to come out. It is possible that someone over there found that out, and, you know, maybe they were very homophobic."
Canavan added: "She did say to us that she had concerns about things she was seeing when she was over there. She told us if anything happened to her, that we were to investigate it."