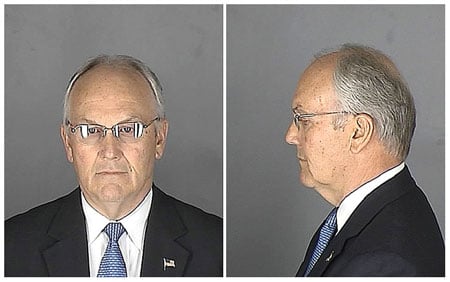 A Hennepin County, Minnesota judge has rejected Larry Craig's request to withdraw his guilty plea for disorderly conduct stemming from his arrest in a Minneapolis airport men's room in June:
"In a 27-page order, Judge Charles Porter found Craig had entered the guilty plea "accurately, voluntarily and intelligently" and it was too late to withdraw his admission. Craig, who says he is not gay, argued that he entered the plea without legal advice, fearing that the allegations would be made public. Once his plea became public, the Idaho Republican announced he would resign at the end of September — but then said he would await Porter's ruling before deciding whether to leave the Senate. The judge heard arguments September 26 concerning Craig's June 11 arrest for allegedly making sexual overtures to an undercover male police officer in an airport men's restroom."
Now the question remains, will Craig step down? Craig could hypothetically appeal the decision, according to the Idaho Statesman's Dan Popkey, and put in motion a court process that will allow him to stay in office until the end of his term:
"…the likely scenario is Craig will head to the Minnesota Court of Appeals. He can expect oral argument within two or three months after filing his challenge to an unsatisfactory ruling. An appellate decision would come within another 90 days, extending Craig's battle to spring. Next step: the Minnesota Supreme Court, with arguments to come two or three months after a second appeal. The average time between argument and a decision is 4› months. That gets Craig to term's end in January 2009. At that point, assuming his guilty plea stands, Craig can say he fought the good fight. Meantime, he will have remained in office, continued to collect his salary, and boost his pension that's based on years of service."
We'll likely know soon.
UPDATE: Craig issues statement…