Norwegian clergy to defy church, carry out same-sex marriages. Chaplain: "There will be a certain amount of civil disobedience. I want to start wedding homosexuals as soon as a new Marriage Act is in place."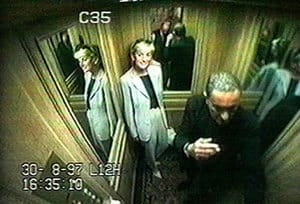 Diana's final smile on film.

Jeffrey Toobin looks at Lawrence v. Texas in new book on Supreme Court, The Nine: Inside the Secret World of the Supreme Court
: "There was no mistaking the significance of Kennedy's opinion. The point was not that the court was halting sodomy prosecutions, which scarcely took place anymore. Rather, the court was announcing that gay people could not be branded as criminals simply because of who they were. They were citizens. They were like everyone else."

Welsh gay and lesbian film festival offers record £25,000 prize for best film: "Festival director Berwyn Rowlands said talent from at least half of the films shortlisted were flying in from all over the world to attend the event. 'This is a prize that unites a global network of film festivals located in LA, Sydney, Manila, Hong Kong and Dublin to bring together the most promising new talent from around the world,' he said."

Ann Coulter's piehole opens up: "If we took away women's right to vote, we'd never have to worry about another Democrat president. It's kind of a pipe dream, it's a personal fantasy of mine, but I don't think it's going to happen. And it is a good way of making the point that women are voting so stupidly, at least single women."

Britney Spears now licensed to cause havoc on the streets of L.A..

Anglican advisory committee says Episcopalian church has "complied with a directive" on same-sex unions and gay bishops folowing an announcement by the Episcopals that they would be exercising "restraint" on those issues in the future.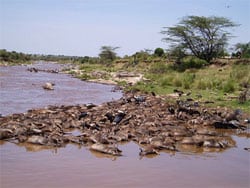 10,000 dead. One-percent of world's entire wildebeest population die in mass drowning over the course of several days. "As the animals passed through southern Kenya during their annual migration, part of the herd attempted to cross the fast-moving Mara at a "particularly treacherous" point, according to Terilyn Lemaire, a conservation worker with the Nairobi-based Mara Conservancy who witnessed the incident. 'Once they jumped into the water, they were unable to climb up either embankment onto land and, as a result, got swept up by the current and drowned,' she wrote in an email to National Geographic News."

The Daily Mail tackles some tough issues. How much He-vage should a man show? And which aging male stars have had plastic surgery?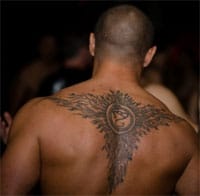 Folsom Street down under: a look at Sydney's recent sleaze ball.

Domestic Violence Hotline for gay/bisexual/transgender men receives $75,000 Verizon grant to expand to cover Massachusetts, Rhode Island, and Connecticut: "The Verizon grant is significant for several reasons. It expands a model program into other states, and it provides a lifeline to gay, bisexual and transgender male victims currently without access to services. It also raises awareness among other corporations that domestic violence is a critical issue that impacts everyone."

Irish man gets eight months in prison for gay bashing: "Garda John Lavery gave evidence that the victim was walking towards the diving board at Blackrock, at 3am on April 15 last year when he saw a group of youths were already there. He was accosted by Corcoran who shouted homophobic obscenities at him. Corcoran shouted, 'What the f*** are you looking at you poofter, you faggot.' He punched the victim to the face and told him he was going to kill him. The victim managed to escape and he reported the incident at Salthill Garda Station two days later."