Larry Craig and his wife have talked to Matt Lauer in an interview to be broadcast Tuesday evening. In excerpts published by CNN, Craig discusses his arrest, saying it was a "tough call" on telling anyone about it: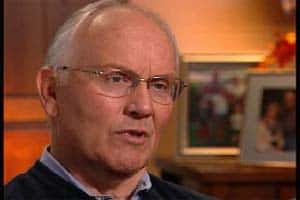 "I didn't want to embarrass my wife, my kids, Idaho and my friends. And I wrestled with it a long while. … I should have told my wife. I should have told my kids. And most importantly, I should have told counsel."
Craig also laments the fact that Mitt Romney, for whom he served as Senate campaign liaison, turned and ran when the scandal hit: "I was very proud of my association with Mitt Romney. And he not only threw me under his campaign bus, he backed up and ran over me again."
Craig's wife used an interesting metaphor when describing her reaction to the news of her husband's arrest: "I felt like the floor was falling out from under me. … And I felt like almost like I was going down a drain for a few moments." Flush!
In another interview over the weekend, Craig told KTVB Boise that he would file an appeal of his case Monday morning: "We don't know what the appellate court will say to me. Honestly, the appeals courts tend to defend the courts below them. It is my right to do what I'm doing. I've already provided for Idaho certainty that Idaho needed, I'm not running for reelection. I'm no longer in the way. I am pursuing my constitutional rights."