Let California Ring, a project of Equality California and a coalition of over 45 national, state and local organizations, has launched a new campaign aimed at educating the public about marriage equality.
It's said to be the first campaign directed at a broad audience that is undecided about same-sex marriage, and the first TV spot (click to play, above) places the issue in the context of a heterosexual wedding.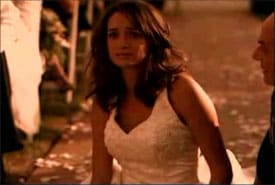 The spot follows a bride on her wedding day as she prepares to walk down the aisle. Her journey to the altar is obstructed by various obstacles as she struggles to unite with the man she loves. Finally, she is physically stopped from reaching her groom by members of the congregation as the spot asks, "What if you couldn't marry the person you love? Every day, gay and lesbian couples are prevented from marrying. Support the freedom to marry."
The California legislature recently approved a gay marriage bill and a decision from the Supreme Court on same-sex marriage is expected in the coming months. Cities across California have also been putting their support behind a resolution urging the Court to overturn the state's ban on same-sex marriage.
The ads will begin airing on Oct. 11 in Palm Springs, LA, San Diego, San Francisco and Sacramento.
Let California Ring [official site]
San Diego Mayor Says Daughter is Gay, Reverses Marriage Position [tr]
San Diego City Council Votes to Support Same-Sex Marriage [tr]