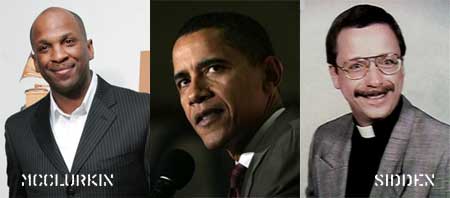 It's hard to believe that Barack Obama's gospel tour problems could get any worse, but it has. Leaders of the South Carolina Gay and Lesbian Pride Movement reportedly asked Barack Obama's campaign to dump Reverend Donnie McClurkin from his gospel tour this weekend in a conference call that was held late yesterday.
After refusing to dump McClurkin the LGBT leaders said they would hold a vigil outside the concert on Sunday to protest McClurkin's inclusion.
Another revelation came out yesterday. Openly gay Reverend Andy Sidden, whom Obama added to the campaign in an effort to counter outrage over McClurkin, is white.
Pam Spaulding talked to Michelangelo Signorile last night after Sidden spoke on his radio show. Pam reports that "Sidden [doesn't] consider himself very politically active, and that he accepted the mission not because he was an Obama supporter, but because he couldn't turn down anyone asking him to pray. One of the reasons for his selection, he said, was because he was a UCC minister — and because he was openly gay."
Pam offers some words about why Sidden is a big problem:
"The last thing a crowd of black folks who have a problem with homosexuality needs is: 1) to be 'told' by the Obama campaign that a message about tolerance must be delivered from a white voice of faith, and 2) to have their beliefs confirmed that being gay is 'a white man's perversion.' Coming from a white pastor under these circumstances, can only be seen as paternalistic and patronizing; the shields of defensiveness will go up, the message will be ignored. The most stinging message that the Obama campaign has sent is that they apparently didn't see the relevance or necessity of removing the ability of religious blacks to stay in denial, that somehow there is not an intersection of being black and gay. This move renders us invisible yet again, as politically expendable, because it telegraphs that it's too politically volatile to address the division in the community by having them confront one of their own — black gay and gay-affirming ministers — when it comes to looking at bigotry."
Pam also reports that McClurkin isn't as "ex-gay" as he claims to be.
Backstory
Obama Releases Letter from Gays and Blacks Supporting Gospel Tour [tr]
Obama Adds Openly Gay Minister to Counter McClurkin Furor [tr]
"Ex-Gay" Reverend McClurkin Speaks Out on Obama Controversy [tr]
Barack Obama Releases Statement on Reverend McClurkin [tr]
Barack Obama to Tour with Anti-Gay Gospel Singer [tr]