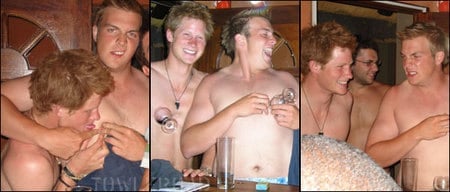 Video has surfaced of wild behavior from Prince Harry on a recent trip to Namibia with his friends.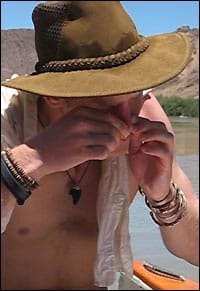 In the video, Harry is seen snorting vodka and cavorting drunkenly with his pals, one of whom appears to be getting a nipple lick from the inebbriated prince.
Experts are concerned because vodka snorting is not the safest of pasttimes: "Professor Ian Gilmore, president of the Royal College of Physicians, said: 'There are all sorts of additives that could cause an allergic reaction which could damage the lungs, mucus membranes of the nose and trachea. It could kill.' David Nott, who runs the Manor Clinic rehab centre and is a member of the Federation of Drug and Alcohol Professionals, said: 'Anybody acting in this manner continually will do severe damage, which could be deadly.' Frank Soodeen from Alcohol Concern added: 'By by-passing the liver, you run the risk of inflaming the brain and possibly causing long-term damage. It's a practice to be avoided at all costs. It's very irresponsible.'"
Let's hope Harry changes at least some of the behavior. We certainly would not want him to end up like this.
You may have missed…
Dead Prince Harry Sculpture to be Unveiled in London [tr]
Tenth Anniversary of Diana's Death Marked by Pomp and Conspiracy [tr]