Robert Goulet dies at 73, awaiting lung transplant at hospital.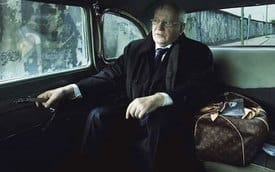 Does Annie Leibowitz's Louis Vuitton ad contain a hidden message from Gorbachev about poisoned Russian spy Alexander Litvinenko?

Being Mr. Gay Brazil requires Representative Barney Frank on Larry Craig: "I don't think he should have been arrested, but it's more likely than not that he was interested in sex. You have a right to privacy but not hypocrisy. During the period that I was closeted for seven years, I was always a gay rights supporter. I think it's a fundamental violation of principles to vote one way and act another."

Following rash of gay bashings, a "safe space" opens on Oxford Street in Sydney: "Lord Mayor Clover Moore MP said the City had agreed to lease a recently vacated shop front in a Council-owned building to ACON for use as a night-time Safe Space for the gay community. '"Following discussions with ACON, the City has agreed to provide the premises free of charge for ACON to use on a nightly basis,'" Ms Moore said. '"The Safe Space will act as a refuge for people who feel threatened or abused." Residents continue to report assaults, robberies and anti-social behaviour associated with large late night licensed premises. There are ongoing reports of serious problems and people tell me that they fear for their safety."'"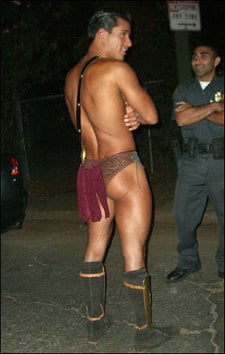 Ass-tastic: Mario Lopez lets it all hang out for Halloween.

Wentworth Miller holds on tight!

Two pink triangles from the Holocaust being auctioned in the UK: "They are expected to fetch hundreds of pounds when they go under the hammer at the Mullock's Auctioneers at Ludlow Racecourse on Thursday. Also being sold at the auction are other rare items including a description of a Spanish flu pandemic that killed millions and an apologetic letter from composer Edward Elgar."

Jesse Helms documentary comes to DVD, and includes never-before-seen interview with Matthew Shepard.

Frequent Towleroad commenter David Ehrenstein writes on "Obama's Gospel Mistake" in the L.A. Times.

Harper Lee to receive Presidential Medal of Freedom.

Tom Ford is buying mineral rights to the land beneath his Galisteo, New Mexico ranch in order to block oil drilling: "Ford paid the state Land Office about $84,000 earlier this year to purchase the mineral rights to more than 1,400 acres, according to Land Office records. The purchase came in response to Tecton Energy's controversial proposal to drill eight exploratory wells on 65,000 acres, or 101 square miles, in the Galisteo Basin where it has acquired mineral rights." All drilling above ground is expected to continue.