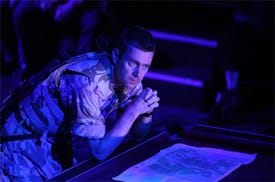 Written by Gregory Burke and brilliantly directed by John Tiffany, Black Watch has been assembled from an array of interviews with members of Scotland's elite Black Watch military troupe regarding their service in Iraq, a deployment that ironically was its last before being amalgamated into the rest of the British army and losing its historic distinction. "Troupe" is an appropriate term to employ for this theatrical version is as cohesive as any military one.
The physicality of the actors is astounding as they are called upon to have the stamina and precision of Jack Cole dancers in the jazzy, balletic demands the production calls for without sacrificing any of the machismo posturing that is so innate to military men. At the same time, they are all so emotionally true and raw and present and downright sexy that any of them could give a nuanced performance as Tom Wingfield – or The Gentleman Caller – if the National Theatre of Scotland chooses to produce The Glass Menagerie in the future.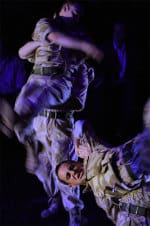 Two standouts are Paul Rattray as Cammy in the play's central role, whose specific emotional journey of disillusionment is the one the audience is called upon to follow most closely. (There is an astonishing sequence one could only experience in the theatre in which the whole history of the Black Watch unit is depicted though Cammy's narration and the utilization and manipulation of his body by all the other cast members.) The other standout is Emun Elliot who is giving an old-fashioned star-turn as the tragic Fraz.
The production also expertly employs video and music. The musical numbers are, in fact, more stirring than anything you'll see on Broadway. The last quarter of the play had me in tears — from the moment the cast goes through a stylized, ritualistic mail call to the frenzied pugilistic male pas de deux that erupts from the stress of the battlefield to the final marching sequence that so beautifully and simultaneously displays the individual yet phalanx-like brutal love such brave warriors have for each other and – sadly and honorably – for war itself.
RATING: T T T T (4 T's out of a perfect rating of 4)
BLACK WATCH — St. Ann's Warehouse, 38 Water Street, dumboBKLYN | Box Office: 718.254.8779.
Up tomorrow, reviews of Tom Stoppard's Rock 'n' Roll and Fuerzabruta.