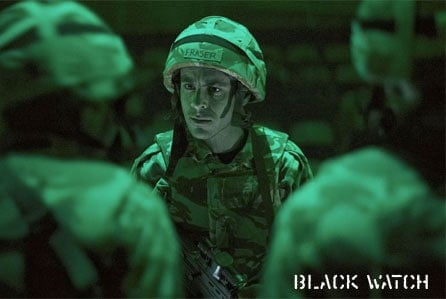 I'd like to announce a new guest blogger on Towleroad. Kevin Sessums, whom I interviewed on the site earlier this year when his memoir Mississippi Sissy was published, will now be doing theater reviews for us. Since we spoke, Mississippi Sissy has appeared on The New York Times bestseller list and was nominated for a Quill Award. Kevin was for 14 years a contributing editor of Vanity Fair magazine and for four years served in the same capacity for Allure magazine. Prior to that he was Executive Editor of Andy Warhol's Interview. This week Kevin is reviewing three new productions staged in New York, one today and two tomorrow. I'm thrilled to welcome him.
***
BLACK WATCH
Autumn in New York. Why does it seem so inviting? Autumn in New York. It spells the thrill of first-nighting.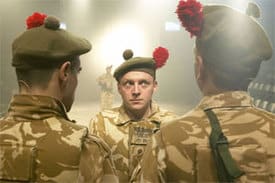 Vernon Duke wrote the music and lyrics to that famous song for a 1934 two-act musical review on Broadway titled Thumbs Up. It opened at the St. James Theatre two nights after Christmas that year and ran until May 11, 1935. In fact, "Autumn in New York" was the review's final big number. There were 57 members of the cast listed in the program but the only two names that Towleroad readers may recognize include the then 23-year-old Jack Cole, a dancer who went on to become a reknowned choreographer for theatre and films. Cole created the "jazz" aesthetic of show biz dancing and without him there probably wouldn't have been a Bob Fosse or a Jerome Robbins. Marilyn Monroe adored Jack Cole after he made her look so good in Gentleman Prefer Blondes. Another name that jumped out at me in the Thumbs Up cast when I looked it up online was Eddie Dowling, who was, tens years later, the original Tom Wingfield opposite Laurette Taylor and Julie Haydon in Tennessee Williams' The Glass Menagerie. Dowling, who was also a producer and director, even produced the world premiere of the play in Chicago before it made that 1944 move to New York.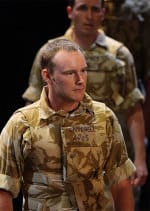 As the new theatre critic for Towleroad, I haven't attended any first nights yet this autumn in New York, but I have had a few thrills already this theatre season. What follows in my reviews over the next couple of days are two, yes, thumbs ups and one sideways one. Let's start with the National Theatre of Scotland's production of Black Watch, one of the most gut-wrenchingly, jaw-droppingly moving experiences I've had in over thirty years of going to the theatre in New York. Or, as Brandon, the 13-year-old Brooklynite I've mentored for the last five years, told me when he turned to me after the production, "That's the bestest most amazing thing I've ever seen in my life." I wouldn't be that hyperbolic but he's not too far off the mark. Indeed, Sir Sean Connery so loved the production when he saw it in his native Scotland that he convinced the Scottish political powers-that-be to open their parliamentary session with a performance of the play this past summer.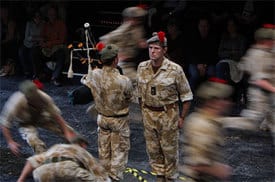 Black Watch is the most buzzed about play so far this New York theatre season, having already been a much praised hit of the Edinburgh Festival in 2006. It's scheduled to run till November 11 at St. Ann's Warehouse in Brooklyn's DUMBO neighborhood. (Go online to stannswarehouse.org for ticket information and directions to the theatre.) If it's now sold-out, which it most likely is, then beg, borrow, or steal a ticket — or go get on a waiting list the night or afternoon of a performance. I am hoping some smart producer will move this production if St. Ann's can't extend it for scheduling reasons.
For once, New York has been lucky enough to see an acclaimed production from England's northern neighbor even before London has, since the National Theatre of Scotland has been having a difficult time finding the right venue for the production further south in Great Britain. Its original one at the Edinburgh Festival was done in a military drill hall and demands a kind of runway on which to perform between the audience seated on each of its sides. It was recently announced, however, that England's National Theatre so wanted to be able to present the play that it has committed to reconfiguring its Barbican Theatre to mount the production in June 2008.
Continued (click link to jump)…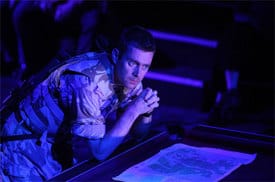 Written by Gregory Burke and brilliantly directed by John Tiffany, Black Watch has been assembled from an array of interviews with members of Scotland's elite Black Watch military troupe regarding their service in Iraq, a deployment that ironically was its last before being amalgamated into the rest of the British army and losing its historic distinction. "Troupe" is an appropriate term to employ for this theatrical version is as cohesive as any military one.
The physicality of the actors is astounding as they are called upon to have the stamina and precision of Jack Cole dancers in the jazzy, balletic demands the production calls for without sacrificing any of the machismo posturing that is so innate to military men. At the same time, they are all so emotionally true and raw and present and downright sexy that any of them could give a nuanced performance as Tom Wingfield – or The Gentleman Caller – if the National Theatre of Scotland chooses to produce The Glass Menagerie in the future.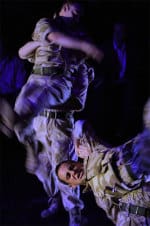 Two standouts are Paul Rattray as Cammy in the play's central role, whose specific emotional journey of disillusionment is the one the audience is called upon to follow most closely. (There is an astonishing sequence one could only experience in the theatre in which the whole history of the Black Watch unit is depicted though Cammy's narration and the utilization and manipulation of his body by all the other cast members.) The other standout is Emun Elliot who is giving an old-fashioned star-turn as the tragic Fraz.
The production also expertly employs video and music. The musical numbers are, in fact, more stirring than anything you'll see on Broadway. The last quarter of the play had me in tears — from the moment the cast goes through a stylized, ritualistic mail call to the frenzied pugilistic male pas de deux that erupts from the stress of the battlefield to the final marching sequence that so beautifully and simultaneously displays the individual yet phalanx-like brutal love such brave warriors have for each other and – sadly and honorably – for war itself.
RATING: T T T T (4 T's out of a perfect rating of 4)
BLACK WATCH — St. Ann's Warehouse, 38 Water Street, dumboBKLYN | Box Office: 718.254.8779.
Up tomorrow, reviews of Tom Stoppard's Rock 'n' Roll and Fuerzabruta.