San Francisco's top Catholic official, Archbishop George Niederauer, is under fire from Catholic leaders because two Sisters of Perpetual Indulgence received communion from him on October 7 at the Holy Redeemer Church in the Castro.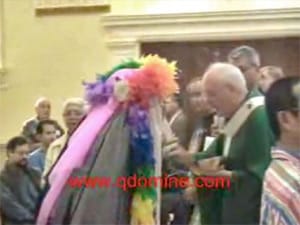 The service was videotaped and posted on the internet, where it caught the attention of Bill O'Reilly, who was happy to fan the flames.
O'Reilly wrote: "Last Sunday, at the Catholic Church of the Most Holy Redeemer, Archbishop George Niederauer was celebrating mass. As part of that ritual, holy communion is given to Catholics by the celebrants. Two gay militants in bizarre dress took communion from the archbishop in an attempt to mock the mass and the man. — The people who did this are members of a militant homosexual group that runs around San Francisco dressed as nuns. All city officials are aware of the group because in the past they have publicly demeaned Christianity. The Mayor of San Francisco, Gavin Newsom, has refused to comment. The District Attorney, Kamala Harris, says she is waiting for a complaint to be filed. The Catholic Church says it will do its own investigation and doesn't want the police involved at this point. The archbishop has apologized, saying he's embarrassed and sorry he gave communion to people committing sacrilege."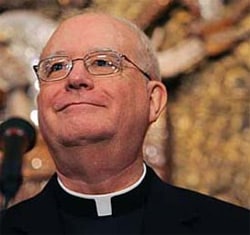 Now, Niederauer has written a letter of apology to "Catholics of the Archdiocese of San Francisco and to Catholics at large" according to the San Francisco Chronicle.
It reads, in part: "At Communion time, toward the end of the line, two strangely dressed persons came to receive Communion. As I recall, one of them wore a large flowered hat or garland. These two people have long made a practice of mocking the Catholic Church in general and religious women in particular. Someone who dresses in a mock religious habit to attend Mass does so to make a point (that) was intended as a provocative gesture."
San Francisco Mayor Gavin Newsom responded: "This debate really is about San Francisco values. The Bill O'Reillys of the world are threatened by San Francisco because we value diversity, universal health care and civil rights for all. They will exploit any controversy to attack our values."
More on the Sisters here.