Kaposi's Sarcoma, a type of cancer that makes itself known by unsightly purple lesions which was the very chilling manifestation of the AIDS crisis in the 80's, has returned in a number of patients in San Francisco, worrying scientists, who are concerned about what that might signify.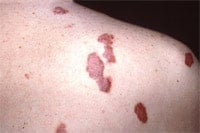 One told the San Francisco Chronicle, "This could either be the canary in the coal mine, or it could just be a collection of rare events that will continue to occur when people are given what appears to be effective treatment."
The cancer has re-emerged in 15 patients most of whom have had HIV for almost 20 years and are in their 40's and 50's.
Anti-viral drugs virtually vanquished KS in the mid-90's.
Said one patient on whom the lesions have appeared: "I'm of an age to remember when, if a purple lesion showed up on your face, it meant you were going to die. [Finding the lesion] was extremely scary. I got something out of the blue and totally unexpected…I never thought I would have to face this."
Doctors believe that the re-emergence of KS in these patients does not represent the same threat that it did early on in the epidemic but is more of a "nuisance". However, it does worry them that as the immune system ages, it opens the vulnerable up to not only KS, but perhaps a host of other issues as well.
Unsettling re-emergence of 'gay cancer' [sf chronicle]