Mike Jones, the escort behind the Ted Haggard scandal, claims that Idaho Senator Larry Craig was his client.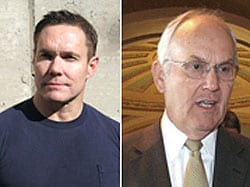 Jones dropped the bombshell while appearing on the "Bulldog Bill Feingold Show" in Palm Springs.
According to KESQ Palm Springs: "Feingold asked whether the Senator had seen Jones in a hotel room. Jones responded, 'No, he came to see me.' Jones then added, 'His travel records to Denver have been documented. That's what I wanted to say.' NewsChannel 3 asked Senator Craig's office to comment on the allegations that Craig came to Denver to see Jones, who calls himself a gay escort. Craig's office said in response, 'Mike Jones' allegations are completely false.'" Craig's office also added, "clearly anyone can make an accusation absent of details that would be easy to refute."
The station reports, "Jones is not alleging that he has had sex with Senator Craig but that he is alleging the senator came to see him. 'One of the things I was good at was figuring out what people did for a living when they came to see me by things they said or their actions,' Jones said on-air Wednesday night. 'So be in a position where you have to guess what people did for a living, occupation-wise. Someone comes in to you and the first question they say to you is 'do you follow politics?' and you would say, 'yes'. 'Oh.' 'the weather is cold outside, isn't it? What would you think that person is involved with? I will just tell you a gentleman came in and said that exact thing to me.'"
Asked Feingold "Did he look similar to Senator Craig?"
Jones responded, "I've been with many politicians and all I can tell you is for a fact, that Larry Craig is a hypocrite."
Joe.My.God also reports that Jones told him of Craig when the Craig scandal first unfolded: "I asked Mike if he could prove his claim, but he said that while he didn't have voice mail messages to backup his claim, as he did with Ted Haggard, he would nevertheless come forward IF Craig did not follow through on his resignation."
UPDATE: Mike Rogers of BlogActive, who outed Larry Craig before Craig was arrested in the Minneapolis airport, claims that Mike Jones is lying to juice up his book sales. Rogers had a phone conversation with Jones and challenged him to bring out the proof.
Alleged Haggard Escort: 'Sen. Craig Visited Me' [kesq] (with video)
Bombshell From Mike Jones: "Larry Craig Was My Customer" [joe.my.god]