Viscount David Linley, a furniture maker and the Queen's nephew, has been identified as the likely target of the extortion plot by socialite Ian Strachan and his accomplice Sean McGuigan I posted about earlier today. The two men are in jail after demanding £50,000 ($100,000) from the royal family to stop the release of a sex tape which allegedly shows a male member of the royals discussing performing an oral sex act on them. The video, shot on a mobile phone, also allegedly shows them discussing cocaine use.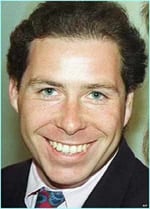 Via The Daily Telegraph: "The royal, a respected fine furniture maker whose clients include Oprah Winfrey, did not hesitate in contacting police because the claims and so-called evidence against him were false – as the media has also discovered – and the footage did not implicate him in any wrongdoing. A police sting ensured the evidence was seized and the men were arrested with no money changing hands. They had allegedly attempted several times in the past six months to sell the footage to the media but an investigation proved the claim and the film were false. Buckingham Palace has refused to comment other than to say it was a 'matter for the police', while a court order has banned the media in the UK from revealing his or her name. Many royal watchers are expecting Viscount Linley, 12th in line to the throne and a father of two, to issue a statement to end the speculation and protect the rest of his extended family from unwanted publicity."
Linley is currently 12th in line for the throne.
You may have missed…
Royal Family at Center of Gay Sex Tape Blackmail Plot [tr]