Anglican Archbishop Desmond Tutu, in an interview to be aired Tuesday, slams his own church for focusing, shamefully, on homosexuality. It's not the first time he has expressed such a disappointment.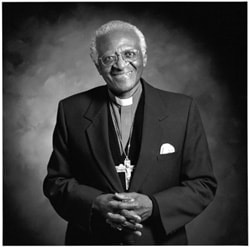 Says Tutu: "Our world is facing problems – poverty, HIV and AIDS – a devastating pandemic, and conflict…In the face of all of that, our Church, especially the Anglican Church, at this time is almost obsessed with questions of human sexuality…God must be weeping looking at some of the atrocities that we commit against one another."
According to reports, he also criticizes Rowan Williams, the archibishop of Canterbury, for failing to demonstrate that the Anglican church's God is one who is all-loving.
Added Tutu: "If God as they say is homophobic I wouldn't worship that God…It is a perversion if you say to me that a person chooses to be homosexual. You must be crazy to choose a way of life that exposes you to a kind of hatred. It's like saying you choose to be black in a race infected society. Why doesn't [Williams] demonstrate a particular attribute of God's which is that God is a welcoming God."
Previously
Archbishop Desmond Tutu Blasts Anglican Church Over Gay Rift [tr]