According to the Human Rights Campaign, the Matthew Shepard Hate Crimes Bill is in jeopardy: "Senate leadership employed a commonplace strategy with this bill. They calculated that the only chance of the Matthew Shepard Act surviving Bush's veto pen was if it were attached to a "must-pass" Department of Defense bill. But now that House and Senate are reconciling their versions of the DoD bill, it is under attack from anti-GLBT conservatives against hate crimes legislation, as well as progressive, pro-equality lawmakers who oppose some of the bill's provisions for the war in Iraq."

GASP: Beckham commits fashion faux pas down under but remains a charmer.

Clinton and Obama both have plans to fight AIDS, but neither will mention the word condom.

This is a PSA for work place safety that basically teaches you to have someone else carry the boiling water.

Scientists create cancer-resistant mouse: "A mouse resistant to cancer, even highly-aggressive types, has been created by researchers at the University of Kentucky. The breakthrough stems from a discovery by UK College of Medicine professor of radiation medicine Vivek Rangnekar and a team of researchers who found a tumor-suppressor gene called 'Par-4' in the prostate."

Gay man in Baghdad: "There were many things that surprised me when I started researching the story of gays in Iraq. The first was that there were hundreds of men on the Iraqi pages of Gaydar. They are a mix of Iraqi locals, members of the US Army, contractors, even employees at Baghdad's embassies. Many, even the Iraqis, had their faces showing. At that point, virtually everything about Iraqi gays in the gay press was reported from outside the country – by Doug Ireland in this newspaper, later by David France in GQ, and in many translations by Ali Hili, the exiled leader of the group Iraqi LGBT, working from London. With gay, often underground contacts in Iraq, they offered a view of what is going on, not in any way a pretty picture. Some mainstream journalists based in Iraq, from the Los Angeles Times, for example, later followed suit. But I wanted to see things directly for myself."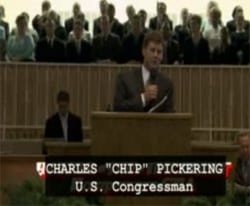 At the top of the list to replace resigning Senator Trent Lott is Mississippi Representative Chip Pickering. You may remember him from his cameo in Borat: Cultural Learnings of America for Make Benefit Glorious Nation of Kazakhstan.

Danny Bonaduce wants to prove he's a bigger man than you think he is (nsfw).

Ann Coulter does not want anyone to know where she lives. Hmm, someone must hate her.

Obama gets Oprah, Hillary gets Barbra: "Madame President of the United States … it's an extraordinary thought. We truly are in a momentous time, where a woman's potential has no limitations. Hillary Clinton has already proven to a generation of women that there are no limits for success."

Gay wedding in Morocco ends in rioting and jail: "More than 600 men and women took to the streets, chanting slogans condemning the city's leniency towards homosexuals and criticizing the couple's audacity to hold a gay wedding in the open."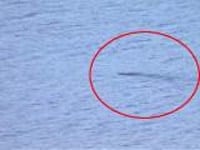 The 10 best cryptozoology stories of the year.

Torrance, California man uses "gay panic" defense to explain why he killed his stepfather with a butcher knife: "Ashton Hurst, 36, described in great detail his relationship with popular Harbor College baseball coach Robert Gauci and what he said were Gauci's homosexual advances that led to the fatal fight. Gauci was 44. Hurst's testimony differed from some of his previous accounts of the Feb. 8, 2005, homicide, including one he gave his mother and sister during a recorded jailhouse conversation the night Gauci died. He said back then that he retrieved the knife and stabbed Gauci in the back of the neck because he didn't want Gauci to have brain damage and because no one would believe that Gauci had previously sexually assaulted him, and was trying to again."

Who knew that Wyoming was the Equality State?