Gay City News reports that the Employment Non-Discrimination Act is currently before the House Rules Committee and is headed to the floor at some point this week. The version of the bill before the committee does not include protections for transgender individuals: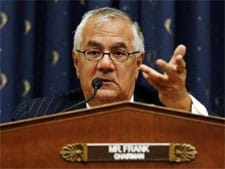 "According to Steve Adamske, a spokesman for out gay Massachusetts Democrat Barney Frank, ENDA's lead sponsor, the Committee will take up the measure in the form it was scaled back to in late September, at Frank's recommendation, to include only sexual orientation – and not gender identity and expression – as a protected class."
Rep. Tammy Baldwin's amendment, which would add protections for transgender individuals back into the bill, may be heard on the floor as well, however, the exact process by which that would occur is reportedly being considered by the Rules Committee.
Baldwin declined to add her name in support of the watered-down ENDA (she was a co-sponsor of the original bill), and several Democrats may defect in their support of it due to the lack of transgender inclusion. However, Gay City News notes, the fact that is in committee is a signal that leadership feels it has the votes to pass the bill.
ENDA Heading to Floor This Week [gay city news]