Thirty-seven men between the ages of 20 and 45 were arrested at a fitness center in northern Penang island on Sunday in Malaysia, where sodomy is illegal. Those arrested included a Chinese national and a man from the UK.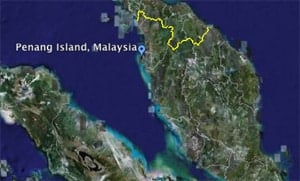 According to the AP, "Police found used condoms strewn all over the floor, seven tubes of lubrication jelly, 20 gay magazines, four pornographic VCDs and six boxes of new condoms… Investigations are ongoing but he said the operator of the premises could lose his business license if he is found to have abused it, and the men, who have been released, could be charged with committing unnatural sex acts."
Said police chief Azam Abdul Hamid: "Based on our information, the center was regularly used for these gay activities. This is against our culture, our way of life."
Police say they were offered a tip which led to the raid. Those arrested face the possibility of 20 years in prison and lashing.
Malaysian police say they broke up gay sex party, arrested 37 men [ap via iht]