Bishop Katharine Jefferts Schori, in Burlington, Vermont on Friday to attend a convention of Vermont's Episcopal diocese, hit out at homophobic members of the church still upset over the ordination of New Hampshire's Gene Robinson.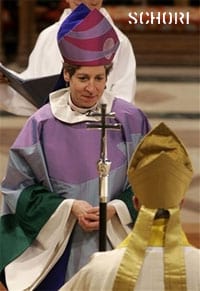 Said Schori: "Obviously a handful of our church leaders are still upset and would like to see the church never ordain and never baptize a gay or lesbian person. We need to refocus on more life-and-death issues like starvation, education, medical care."
Schori and the Episcopal House of Bishops announced in September that a decision had been made by the church to "exercise restraint by not consenting to the consecration of any candidate to the episcopate whose manner of life presents a challenge to the wider church and will lead to further strains on communion."
The decision, which included a halt to blessings of same-sex unions, was seen by many as caving to the international Anglican church's more conservative policies.
Said Schori at the time: "This resolution really is the result of finding common ground to stand on. Not everyone was 100 percent happy with every word in this document, as you might imagine, but together we believe that we have found a place that all of us can stand together."
Church leader says members unhappy with gay bishop should refocus [ap]
You may have missed…
Episcopal Church Caves to Anti-Gay Anglicans, Pledges Restraint [tr]