Daniel Radcliffe talked to British TV host Michael Parkinson on his talk show Parkinson over the weekend about his film My Boy Jack. Towards the end of the conversation, Parkinson brought up J.K. Rowling's recent revelation that wizard Dumbledore is gay, and asked how it has affected the recently-begun shooting of the sixth installment of the Potter series. Here's what Radcliffe had to say: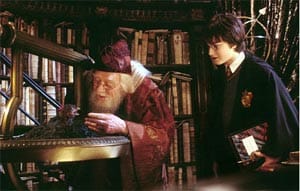 Parkinson: And the revelation of course, that old Dumbledore is gay!
Radcliffe: Yeah, I know! That was hilarious!
Parkinson: I know. Does it make a difference on the set?
Radcliffe: [Michael Gambon has] been camping it up around the set like nobody's business. Not in the film. Although we actually did film a scene the other day, and I'd like to emphasize this point that the script was written before this revelation – I don't think [screenwriter] Steve Kloves had any prior knowledge. But there was a scene the other day where Michael had to come in and say to another character and tell him how much he loved knitting patterns..he just adored saying that.
Clips below: