James McKinnon, who pleaded guilty to the murder of Gary Lee Ober in 2002, is set to be paroled in San Francisco this week as a result of a plea-bargain struck in 2005 that gave him a six-year sentence. He's getting out now based on good behavior.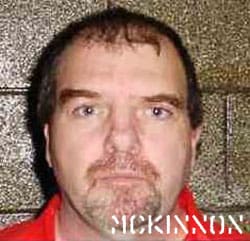 According to the Bay Area Reporter, "In a 2002 taped jailhouse interview with the Bay Area Reporter, McKinnon insisted that he is a victim who was forced to kill Ober, 56, in self-defense to fend off a sexual assault. McKinnon was 37 at the time. He said although he was nearly 20 years younger than Ober, he was more vulnerable because he was suffering from pneumonia. McKinnon also said that as a Vietnam veteran, Ober was a 'trained killer' and that unlike Ober, he detested violence. He added that bruises on his body that were observed by witnesses after Ober's killing were evidence of his struggle to defend himself. But Franco, who had introduced McKinnon to Ober, said that McKinnon's claims of self-defense are ridiculous. Witnesses said that McKinnon showed no signs of being sick before or after he killed Ober. Franco noted that Ober had difficulty walking and standing because of a back condition."
Ober's body was "left to rot in a bathtub for weeks" before it was discovered.
Killer to be paroled this week [bay area reporter]