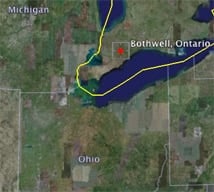 Terry and Ryan Hamilton, a gay couple who were living in Bothwell, Ontario say they were forced to leave town and move to Chatham after enduring "six months as targets of blatant gay bashing and constant harassment" according to the Chatham Daily News.
The couple say they had "die fags" spray-painted on their front door, plants uprooted, and lawn furniture smashed. A local cashier refused to serve them because they were gay but wouldn't talk to the paper "for legal reasons". Ryan Hamilton was threatened by a man with a pipe and pursued until he was able to reach a farmhouse and call police, he says.
The paper reports: "Most of the abuse, they believe, was at the hands of a handful of people."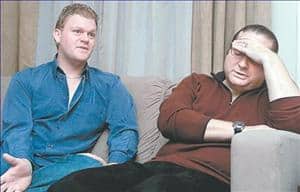 One night in particular, when there was a blackout, stands out in their memory: "They said people were running around their house, punching the windows, throwing rocks and screaming slurs. 'We figured they were coming through the window that night,' Terry said. 'That was the scariest night of our lives.' He said the people were yelling 'die faggots' and at one point someone spray painted the message on the house. Terry and Ryan were huddled inside, armed with a rake and a lawn hoe. The Hamiltons said they called police and when an officer finally arrived, he wasn't sympathetic. Ryan said the officer asked them what they wanted him to do about the spray paint before pointing out that 'I have a community to protect.' Residents of Bothwell are familiar with the Hamiltons and what they were going through. However, there doesn't seem to be much sympathy for them. 'I think they made a lot of their own problems,' said one woman, who didn't wish to be identified. 'They didn't just stay there and live like a normal couple.'"
One man the Daily News spoke with said he liked the couple but that they brought on the trouble themselves: ""They were a nice set of guys. They were all about their gay rights and that. They didn't have to keep on harping on it. They were trying to force themselves too much."
Chatham-Kent Victim Services assisted the couple in moving. The Hamiltons are considering leal action against the grocery store and law enforcement.
Not welcome in Bothwell; Couple threatened, harassed [chatham daily news]