University of Virginia attempts to deal with anti-gay football chant: "After a Cavalier touchdown, the marching band strikes up what, to an outsider, sounds like 'Auld Lang Syne.' But, to its tune, students and alumni sing the 'Good Old Song,' its lyrics written by Edward A. Craighill in 1895, its mention of all being 'bright and gay' a throwback to when 'gay' meant 'happy,' the line a launching pad for what's since become a university tradition of negating the word 'gay' with gleeful (often drunken) shouts of 'not gay!'"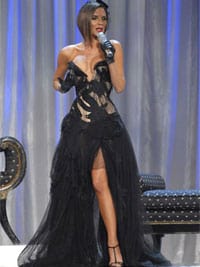 Spice Girls lipsync their way through Victoria's Secret fashion show.

Is Laguna Beach's Talan Torriero the next Aquaman?

Norway's Lutherans vote to allow clergy in same-sex partnerships to serve: "The compromise decision reflected the realization that the church may have to live with a deep split over the issue. After an anguished week of debate at its annual meeting, the church's 86-member governing synod voted 50-34 to make the change. Two members abstained. The meeting, which ended Friday, was held in the town of Lillehammer. The decision means that six of Norway's 11 bishops are likely to open the pulpit to gay clergy in partnerships. In a vote earlier in the year, those six bishops voted in favor of easing the ban. The church already allows gays to serve in the clergy as long as they are not living in a homosexual partnership."

Amherst College students apologize to five Hampshire College students who "were allegedly called names, threatened, spit at and were blocked from leaving the dorm" following a gay party at which they were guests: "Dozens of students gathered outside Valentine Dining Hall at the college yesterday carrying signs that said 'We're Sorry Hampshire' and "I don't want to be 'tolerated.' They also asked passers-by to sign a banner that said 'Please Come Back.'"

IndieWire chats with filmmaker Gregg Araki about his film Smiley Face. We previewed a couple John Krasinski stills from the movie in October.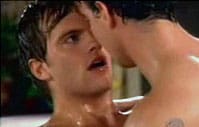 AfterElton talks to Van Hansis and Jake Silbermann about their gay storyline as Luke and Noah on As The World Turns. Hansis: "My parents are so proud of me it sort of embarrasses me. My mom cried on the red carpet at the Emmys this year when she was asked about how she felt for her son to be nominated. It was actually really nice. It's great to see your parents so proud of your accomplishments. Both my parents now go through the soap magazines at the grocery store and point to pictures of me and tell the cashier 'That's my son!' They are generally busy during the day so I think they watch the show online. But they have always been my biggest fans and I couldn't ask for anything more."

From the just-don't-get-it dept: Taipei restaurant gives a completely new meaning to potty-mouthed.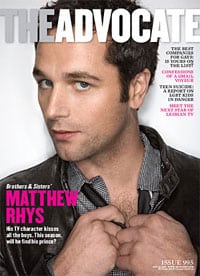 Esteemed design group Pentagram takes a look at the redesigned Advocate: "Today gays and lesbians are no longer an ignored minority, and the younger generations have experienced a saturation of media both from and about the community. Activism, while still important, is less in the mix, and issues like gay marriage, medicine and civil rights have shifted to the mainstream press. At the same time, the circulation of newsweeklies is changing as news and information is more readily available online. The magazine's redesign reflects these transformations. The new Advocate is modern and vibrant while continuing to confront politics and difficult LGBT issues. Impressively, it manages to successfully straddle the line between opinion leader and entertainment magazine without losing its journalistic integrity and with a tone that is sophisticated, but not frivolous."

Rod McCullom on HuffPost: John Edwards and Barack Obama make mistake of repeating Republican talking points to attack one of their own. "…something funny happened to Senators Edwards and Obama on their way to Las Vegas. Maybe the high-roller suites have complimentary testosterone and egos on the pillows, or, possibly they bumped into Elvis, who told them, "A little less conversation and a little more action." They lost their mojos. Instead of throwing the hungry audience sound bites that were wrapped in juicy, red meat, the two candidates tossed stale, Republican talking points at frontrunner Hillary Clinton and the audience booed and hissed."

Without fanfare, Nicaragua drops anti-sodomy laws: "In adopting a new national civil code on Monday, the Nicaraguan National Assembly sidestepped the longstanding law that penalized sodomy between members of the same-sex with up to five years in prison by overwhelmingly voting to approve a new civil code that simply did not mention it."

Bah Humbug: The Bill O'Reilly Christmas Store is now open!