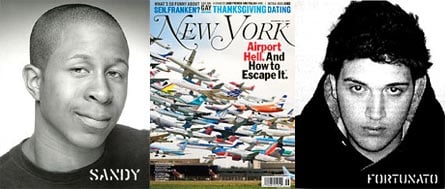 New York Magazine talks to Anthony Fortunato at Riker's Island prison about the death of Michael Sandy, for which Fortunato was convicted of manslaughter in the second degree as a hate crime as well as petty larceny.
In the most detailed account of Sandy's murder published to date, the magazine looks at Fortunato's I'm-gay-so-it-couldn't-have-been-a-hate-crime defense, and asks if the state's hate crime laws are flawed:

"Does the perpetrators' gayness make their crimes any less horrible? Should it even be considered a mitigating factor? Since Michael Sandy was black, why weren't Fortunato and his friends charged with hate crimes against blacks? The New York State hate-crimes law has been controversial since it was passed seven years ago. At issue is the question of motive versus deed. An original version of the bill in the Democratic-controlled State Assembly had required that both factors be considered—that to be convicted of a hate crime, the criminal must demonstrate 'invidious hatred, prejudice, and bias' and single out the victim based on his race, religion, sexual orientation, or the like. But the final version, a bill that came out of the Republican-controlled State Senate, made motive almost irrelevant. All that mattered was the selection itself…The trouble with that law, critics say, is that a hate crime doesn't even have to involve hatred. 'What if a black person decided to prey upon another black person out of a perception that black people are weak, more susceptible to crime?' asks John Sampson, an African-American state senator from Brooklyn who helped pass the law but now believes the way it's being applied has exposed its loopholes. Is that a hate crime? He doesn't think so. 'With examples like that,' he says, 'we're moving away from the spirit of the law.'"
When Is a Hate Crime Not a Hate Crime? [new york magazine]
Backstory
Anthony Fortunato Convicted of Hate Crime in Michael Sandy Death [tr]
Defendant in Michael Sandy Murder Convicted [tr]
Defendant's Confession Challenged in Michael Sandy Trial [tr]
Prosecutor Cross-Examines in Michael Sandy Trial [tr]
For all our Michael Sandy coverage, click here.