John Waters explained his novel alternative to the boring black-tie benefit to Lisa Phillips, the director of the new Museum of Contemporary Art on The Bowery in New York: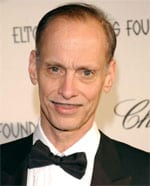 "An un-gala. You have to prove your outfit cost less than $200. You have to have been photographed in it one time before and bring the picture. The cleaning crew gives the speeches. You draw a ticket to which table you sit at. There are no power tables. You don't tell them till they get there! And you let everyone in free and make 'em pay to get out. That definitely would work. You could have fun with the whole thing. And un-raise money."
Perhaps (and those who have seen Polyester will understand) there could also be a squadron of "stompers" positioned outside the exits as well to ensure that everyone leaving receives a parting gift they won't forget for days.
'UN-USUAL' WAY TO RAISE DOUGH [ny post]