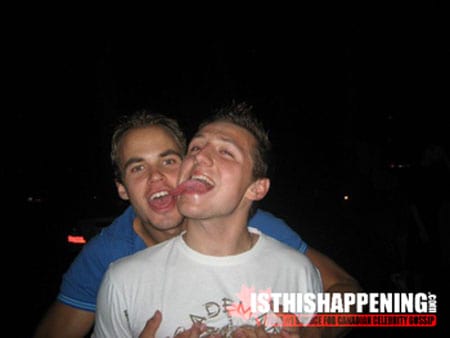 Following the publication yesterday by a Canadian gossip site of photos of 19-year-old Toronto Maple Leaf rookie Jiri Tlusty tonguing another man along with a provocative suggestion that he was ready to come out of the closet, the Czech ice hockey player wrote into the site saying he thought the post was "funny" and he didn't care.
Said Tlusty: "I am not gay or bi nothing."
Tlusty says he was just having a bit of fun with a friend after his birthday and a night out on the town. Of course, that didn't stop the site from pursuing their investigation a bit further (NSFW).
The whole incident should serve as some sort of guerilla tie-in with the upcoming movie Breakfast with Scot. After all, actor Tom Cavanagh had no qualms about kissing a man. Given that they allowed their logo to be used for the film, the Toronto Maple Leafs are, unofficially, the most gay-friendly team in professional hockey.
JIRI TLUSTY SPEAKS TO ITH… [is this happening?]
Welcome To The NHL, Kid [deadspin]