Progressive Insurance has asked an insurance provider in Elmira, New York to remove their company logo from the outside of its agency after the provider posted a different sign in its window warning people of the dangers of gay marriage.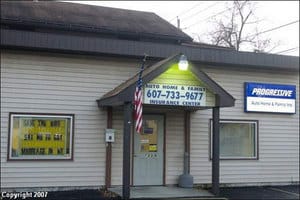 Auto Home and Family Insurance Center's marquee-style sign reads: "Save the kids. Say no to gay marriage in NY".
Progressive told Elmira's Star-Gazette: "It takes a little bit of time. But we've gotten a lot of phone calls here. We need to separate ourselves."
Auto Home and Family owner Rick Piper says he has no plans to remove the sign: "They said 'Look, we don't want that message associated with Progressive, so either take your sign out of the window, or we have to take our sign down. They just don't want to be associated apparently with the sign that I have there."
According to the Star-Gazette: "Piper has said he put the sign up because he wanted to make people aware of the state Assembly's approval of same-sex marriage several months ago. He called it a sin and referred to Bible passages opposing homosexuality. However, some community members have voiced opposition to the sign and called it discriminatory. Meanwhile, Southport was doing research Tuesday afternoon about whether the town has an ordinance that would prohibit Piper's sign, Town Supervisor David Sheen said. He said he hoped to have an answer by Tuesday night's Southport Town Board meeting, he said. The issue was not discussed at the meeting, but afterward, town attorney Steven Barnstead told the Star-Gazette that the town can take no action because the sign involves free speech."
Contact information for Piper can be found here.
Anti-gay marriage sign troubles Progressive [star-gazette]
(image star-gazette)