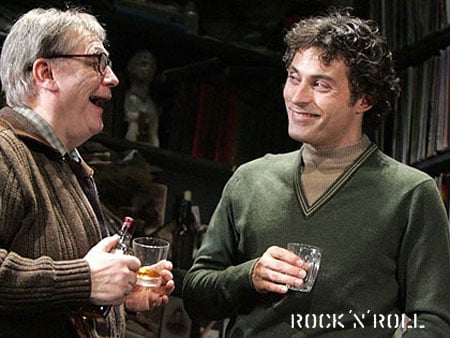 Please welcome Kevin Sessums, whom we interviewed on the site earlier this year when his memoir Mississippi Sissy was published. If you missed last week's posts, Kevin is now doing theater reviews for us, and you can find links to his prior reviews at the end of this post.
I told you last week I'd give you a more detailed review of Tom Stoppard's Rock 'n' Roll once it opened. It opened Sunday night. So now I'm free to opine. There's plenty of opining, in fact, of the political and academic and cultural sort, as is Stoppard's dramatic wont, in this newest play of his which takes place between the years of 1968 and 1990 in Great Britain, Stoppard's adopted home, and his birthplace of Czechoslovakia when the latter's Velvet Revolution, led by another rock 'n' roll loving playwright, Vaclav Havel, was as inspiring an event to many in the west as the fall of the Berlin Wall. But there is an equal amount of just plain old pining contained in the play, for Stoppard has written a love story of almost Shakespearean proportions.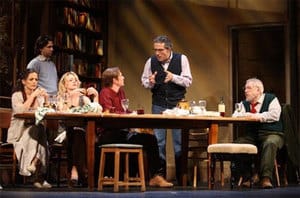 Stoppard's plays are often, like Shakespeare's, filled with fierce symmetries — but they have never been fiercer than those in Rock 'n' Roll. The fiercest of these symmetries is the play's overarching one: the disillusion of political beliefs (the two male leads are cross-generational examples of what could, indeed, be labeled The Disillusioned, another name for late 20th Century Communists) paired as it is with the disillusion of the nonsectarian heart. The play is filled with emotional subterfuges and filial affections and final-curtain romantic pairings. It is also filled with Hellenic digressions since one of its female leads is a professor of Greek literature at Cambridge. What was Communism, Stoppard seems to be saying from the vantage point of the early 21st Century, but a myth believed in by those who were somehow clear-eyed enough to see through the brutal sentimentality in all of life's other myths.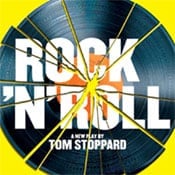 The story, directed by the always deft Trevor Nunn, concerns Jan (Rufus Sewell in a meticulously heart-rending performance), a Czech university student at Cambridge who is a protege of Max, an old Communist lion of a professor played by the always brilliant Brian Cox. Jan — whose love of rock 'n' roll is a kind of metaphor for his belief in a more utopian kind of socialism than Max believes in — goes back to Czechoslovakia because of family and political reasons. What follows are back-and-forth vignettes in Prague and Cambridge that limn, through the characters lives, this most pluralistic of playwright's plural purposes. The rock music that Jan loves — the Stones and Dylan and Pink Floyd and, most important the Czech band The Plastic Purple People of the Universe, which plays a pivotal role in the play's story — roars through the theatre between the vignettes and is so visceral it seems to be another argument Stoppard, of all people, is making for the somatic over the cerebral.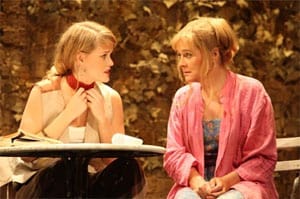 The third and fourth leading characters are played by the same actress, the stunning Sinead Cusack. In the first act she portrays Max's wife, Eleanor, the Greek professor who counterbalances his political bombast with her own arguments more grounded in emotional terms. There is a devastating scene toward the end of the first act in which Cusack as Eleanor elicited gasps as well as tears from the audience the night I saw the play when she literally displays for him her argumentative line, "I am not my body! My body is nothing without me!" It left me stunned, as did her transformation in the second act when she returns in the role of her grown daughter, Esme, an aged hippie who finally surprises us by, yes, embodying all her mother's earlier arguments.
At the dinner after the performance I saw — the benefit for the London Library I wrote about last week — I asked Cusack how her stay in New York was going since it was still the first week of performances here on Broadway. Much like Esme, there was an air of bittersweetness about her. "I miss my boys," she said of her grown sons back home in England, whose father is Jeremy Irons. "And I miss my familiar things about me. There's a lot to be said for familiarity though the play itself has become rather familiar since we had such a long run already in London with it." Cusack's next thing with which to familiarize herself just might be a Tony award that I predict she will win for her performance in Rock 'n' Roll, one she can put on a shelf back home to remind her of her time here and show off to Irons and her boys. A bravo to you, Sinead, as well as the rest of the cast, which includes Nicole Ansari and Alice Eve, who were also in the original British cast at London's Royal Court Theatre.
RATING: T T T (out of four T's)
Later this week, reviews of Cyrano de Bergerac and Speech & Debate.
Rock 'n' Roll, Bernard B. Jacobs Theatre, 242 West 45th St, New York. Ticket information here.
You may have missed…
On the Stage: Tom Stoppard's Rock 'n' Roll and Fuerzabruta [tr]
On the Stage: Black Watch [tr]