As safe houses close, Iraqi gay activist Ali Hili says world has left them behind: "Over 30 gay residents who we cared for in these three safe houses now have to take their chances in a country where religious militia regularly seek out gays and execute them. Several months ago, two lesbians working with Iraqi LGBT were assassinated in the safe house they were running in Najaf, along with a young boy the women had rescued from the sex industry. We feel deserted by the international gay community. Few people seem to care about our fate."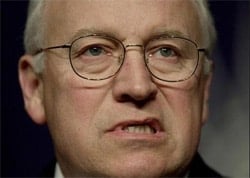 Dennis Kucinich to force vote on impeachment resolution against Vice President Dick Cheney. And he's not stopping there….

Jenkem is the shit: Florida police investigating new fecal drug craze. Disgusting.

Scottish parliament considering sexual orientation hate crime law: "There are no guarantees that enough MSPs will support the bill, but it appears to have received a warm welcome from the government. Today it comes before a committee of the Scottish Parliament."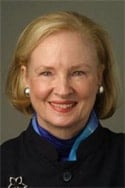 Bush to nominate anti-gay Harvard law professor Mary Ann Glendon as U.S. ambassador to the Vatican: "Glendon, 69, is an anti-abortion scholar and an opponent of gay marriage who also has written on the effects of divorce and increased litigation on society. Her 1987 book 'Abortion and Divorce in Western Law' was critical of the Supreme Court's 1973 Roe v. Wade decision that established a legal right to abortion."

Eric Dane is a silver fox.

CBS News on LOGO expanding to half-hour weekly broadcast: "Brian Graden, Logo president and president of MTV Networks Music Group Entertainment, said Monday afternoon that the network had gotten to the point where it had the distribution and roster of advertisers to take things to another level. 'It seemed like there was enough news to sustain that (half-hour) format and then some, and that the audience had a concentrated interest' a year out from the 2008 general elections, Graden said. He didn't rule out further news programming based on how things go."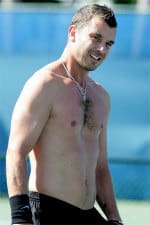 Gavin Rossdale flexes his tennis chops.

Discharged lesbian nurse battling "Don't Ask, Don't Tell": "Margaret Witt's ACLU lawyer told a federal appeals court panel in Seattle that child molesters in the armed forces are treated more leniently than homosexuals because molesters don't face mandatory discharge. Witt contends the policy-driven discharge violated her right to be free from governmental intrusion in her private life, and that her lawsuit against the Air Force should be reinstated…Witt, 42, spent more than 18 years building a stellar reputation as a McChord Air Force Base nurse who saved the lives of soldiers on medical-evacuation missions. Twice decorated by President Bush, her career was on the rise until an anonymous tipster told the Air Force in 2004 that Witt, a major, was in a long-term relationship with a civilian woman."

British boyband McFly are pube-burning sensations at G-A-Y nightclub in London.

Slow-going as jury selection enters day two for Florida Rep. Bob Allen: "It's "very unusual" for jury selection on a second-degree misdemeanor charge of soliciting a prostitute to enter a second day, attorneys agreed. 'The typical misdemeanor trial would generally have jury selection concluded in a half-day or less, and some are done as quickly as an hour or two,' said Michelle Perlman, misdemeanor division chief for Brevard's State Attorney's Office. Many potential jurors were dismissed immediately after they said they believed Allen, accused in July of agreeing to pay an undercover police officer he encountered in a Titusville park bathroom $20 to perform a sex act, was guilty based on media accounts."