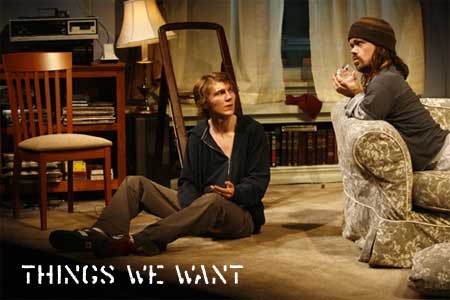 Please welcome Kevin Sessums, who adds to his recent reviews of Speech & Debate, Die Mommy Die! and Cyrano de Bergerac with a look at two new productions.
On Wednesday I told you about two great comedies with dramatic overtones. Today I have two dramas to recommend with comedic ones.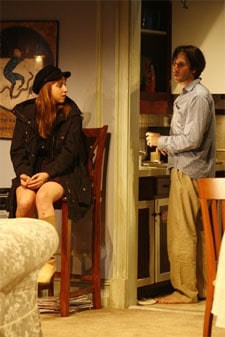 The first is Things We Want, gracefully directed by actor Ethan Hawke for The New Group at the Acorn Theatre on 42nd Street's Theatre Row. Written by Jonathan Marc Sherman, the play is a kind of bratty tantrum of a play — as if Sam Shepard had grown up fantasizing about wild life on the West Side of Manhattan instead of life out in the Wild West. In fact, there is even a Shepardian switch of character traits in two of the characters from the first act to the second like Shepard often more expertly gets away with — especially in True West, another and better play about the depths and dangers of brotherly love.
Things We Want is Sherman's first play in a long time and I wish I could say it's a triumphant return to the New York stage, but it still seems as if it is the work of a promising playwright instead of what should be by now a mature one. There are, however, quirky, heart-rending moments scattered throughout the play which involves the three grown orphaned sons of parents who consecutively committed suicide by jumping out of the same West Side window. Indeed, Sherman, who has admitted to battling alcoholism, has called the play his "dirty, sexy suicide comedy." His own mother committed suicide when he was only six years old.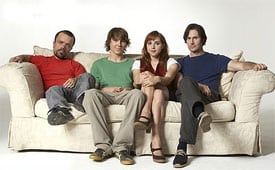 The play is also about the many forms that addiction takes — not just alcoholism — and how it affects not only the addicted but also those who must deal with them. As the brothers, Josh Hamilton, Peter Dinklage, and Paul Dano could not be better. Sherman gives them all soliloquies in which to take blurry flight and fly with them they do. As the sexy downstairs neighbor who throws a wench into the proceedings (forgive the pun), Zoe Kazan is a real find. She is next going to be making her Broadway debut in the revival of William Inge's first big hit, Come Back, Little Sheba, with S. Epatha Merkerson and Kevin Anderson. Kazan is slated to portray Marie in Sheba, the boarder who causes such trouble in yet another household. Sherman's cosmopolitan characters, alas, are as safely soused and gently unhinged as the midwesterners in any Inge melodrama. And yet without the hard-earned sentimentality in the work of each these playwrights their dark visions would be unbearable.
T T 1/2 (out of 4 possible T's)
Things We Want, The Acorn @ Theatre Row, 410 West 42nd Street, New York. Ticket information here.
***
PETER AND JERRY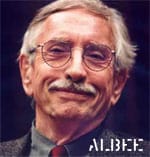 Edward Albee is the least sentimental of modern playwrights. The production of his Peter and Jerry at Second Stage is as lacerating as Who's Afraid of Virginia Woolf?, as monumentally sad as Three Tall Women, as emotionally beastly as The Goat, as fraught with dangerous ennui as A Delicate Balance. Albee has paired his first great success, the 1958 one-act The Zoo Story, which has to be by now one of the most studied and performed and familiar of plays in the American dramatic canon, with Homelife, a one-act which he wrote in 2003. Homelife helps to explain where Peter, the bench-sitter in Zoo Story, comes from on that fateful day he meets up with Jerry in Central Park.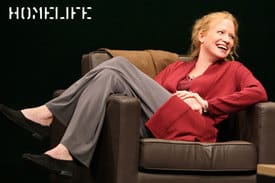 Homelife, with its discussion of an imagined mastectomy and a penis being devoured by a re-developing foreskin and a gory sodomitic remembrance, is an upper East Side Sunday morning marital tete-a-tete — a claw-like two-hander, if you will — that only Albee with his shrapnel imagination could conjure. Johanna Day, as Peter's wife Ann, expertly skims the surface of such dialogue as she digs deeper and deeper into its deflected meaning. And Bill Pullman, as Peter, is becoming the definitive Albee actor — a brainy, seething, cultivated, invertebrate Brahmin. I'd love to see Pullman, who was so moving in The Goat, play George to Day's Martha in a future production of Who's Afraid of Virginia Woolf?.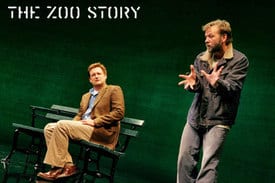 But it is Dallas Roberts, who costarred a few seasons ago with Sam Shepard in A Number at New York Theatre Workshop, who steals the show as Jerry in Zoo Story. Albee has dramatically Jerrymandered the play (forgive yet another pun) to put all the focus on Roberts' character, but Roberts on his own — bearded and scruffy and scarily needy — turns his character's garrulousness into a cri de coeur. It is a shattering performance. Even though I knew the ending that was coming, I am unashamed to admit I shed tears when it came. Sentimental of me? Perhaps. But that's the alchemy of Albee: he tearlessly dares us to shed what tears we have left.
T T T 1/2 (out of 4 possible T's)
Peter and Jerry, Second Stage Theater, 307 W. 43rd St., New York. Ticket information here.
(Things We Want images – Broadway World)
Recent Reviews
On the Stage: Speech & Debate and Die Mommy Die! [tr]
On the Stage: Cyrano de Bergerac [tr]
On the Stage: Tom Stoppard's Rock 'n' Roll [tr]
On the Stage: Tom Stoppard's Rock 'n' Roll and Fuerzabruta [tr]
On the Stage: Black Watch [tr]